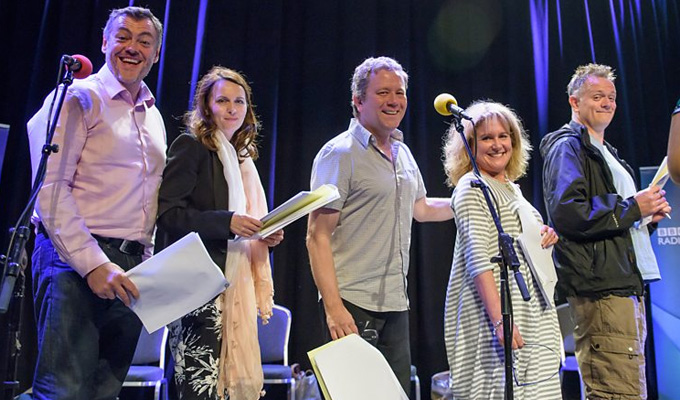 There's bias among our writers, admits BBC satirist
The script editor of Radio 4's Dead Ringers has admitted there may be an inherent anti-Brexit bias in the satirical show.
Laurence Howarth conceded the weekly impressions programme does more jokes against the idea of Brexit than for it.
And he said the writers' room was intrinsically partisan because it included more than its fair share of 'typically London-centred, broadly left-wing people', who were also predominantly Remain voters.
But speaking at the Craft Of Comedy conference in Llandudno yesterday, Howarth said being aware of that tendency helped combat it.
'We check ourselves a lot,' he said. 'We always ask, "Is this sketch assuming in our audience a particular viewpoint?"'
He said he realised his writers' natural instincts may have been out of step with the rest of the UK when they recorded an episode the day after the EU referendum.
After a night spent desperately rewriting the show, amid a general feeling of shock defeat, the team emerged on to the stage of the Radio Theatre in London and asked the audience: 'Is everyone happy about the result?' To the surprise of cast and crew, they all gave a hearty cheer.
' They were Remain supporting – and overall they enjoyed the show,' Howarth said.
He added that it was inevitable that their scripts would include more anti-Brexit jibes because: 'The ones doing Bexit are in power. There are more jokes against the idea of Bexit because that's what's happening.'
Star Jon Culshaw pointed out that in the name of balance the show had mocked Eurocrats such as Michel Barnier and Jean-Claude Juncker as intransigent.
And Lawrence said that ultimately the show 'doesn't have a point of view,' adding that there's a 'natural balance' doing sketches mocking each side of an argument. And the short-form format means each skit can have a different take on issues from the previous one; there does not need to be a consistent vouce.
Star Jan Ravens added that Dead Ringers had helped 'rehabilitate' impersonations from its naff 1970s connotations, where acts would 'just nick the catchphrases' of figures like Frank Spencer, 'basically stealing their act and doing their lines'.
'Now you have to add something; you have to make a joke about the character or make a joke about something else like Patricia Routledge being a typical Daily Mail reader. There's a lot more layers, it's got more interesting.'
She also admitted it took her a while to get the measure of Theresa May.
'All those years I though we had to do Theresa May as she was Home Secretary,' she explained. 'But she never bloody said anything.'
Then she realised how to portray her as 'a woman who's totally unspontaneous... a rabbit in the headlights', hoping someone would tell her what she needs to do.
Similarly Culshaw said the key to Ed Miliband had been to portray him desperately pleading to the electorate 'like a Dickensian character with a begging bowl'.
And Ravens said she probably wouldn't get away with portraying Fiona Bruce as a coquettish, sexualised woman in 2018 as she did when Dead Ringers was on TV from 2002 to 2007.
Published: 16 Jun 2018
What do you think?