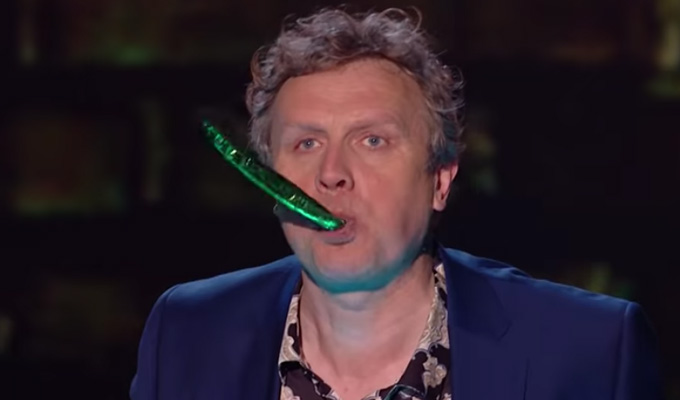 So close! Noel James misses place in Britain's Got Talent final
Welsh comedian Noel James has narrowly missed out on a place in the final of Britain's Got Talent.
The stand-up make the top three of Thursday tonight's semi-final, but was not put through by judges.
Viewers voted for dance troupe Diversity Juniors as their favourites, securing their place, leaving James facing fellow runners-up Tim and Jack Goodacre, a father and son singing duo, in the showdown.
Only David Walliams voted for 52-year-old Noel, calling him 'hilarious', with Simon Cowell, Alesha Dixon and Amanda Holden plumping for the duo instead.
Walliams said: 'Your experience shone through. I'm really pleased that this show has given you the exposure. You deserve to be one of the biggest stars on British TV, there is no doubt about it.'
Holden told him: 'Noel, you were one of my favourites when we were in the auditions because you are so silly.
'What I loved about those jokes was I was laughing at one and then the next one came and the next one came. It was as if you were on a domino run of comedy lines and comedy gags. Really cleverly written.'
She also commented that he had 'scrubbed up very well' in his appearance.
Cowell said: 'This is a tough gig when you're doing stand up. I think you came over really well, I think the second half was better than the first but this is not my thing.'
Dixon added: 'It was so silly, everyone is going to love you, you did brilliantly well tonight, good for you.'
Here is his pun-filled set from tonight:
Before his semi-final appearance, James – a 25-year veteran of the comedy circuit – told of how he had suffered depression, anxiety, and hypochondria following the death of his mum when he was a student.
He said: 'When she was gone I thought, what's the point? Without her warmth, home seemed colder. "I had an empty feeling, anger against the world, a sense of life being so short. So I moved to London to follow my love of comedy.
'I still think of my mother every day – it's taken a long time to come to terms with losing her. I didn't realise how close we were until she'd gone.'
Lost Voice Guy Lee Ridley and autistic comic Robert White have previously got through to the final, which airs on ITV on Sunday night,
Published: 31 May 2018
Recent News
What do you think?