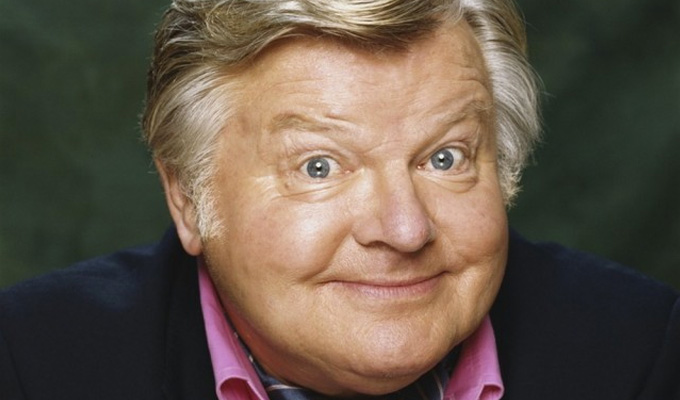 Major Benny Hill biopic in the works
Benny Hill is to be the subject of a major new biopic.
Over two 90 minute episodes Lonely Boy: The Benny Hill Story will cover the comedian's life from a child in the 1930s, rising through the dying days of variety to international TV fame, and through to his decline when his saucy comedy fell out of fashion in the 1980s.
The project is being written by Caleb Ranson, whose credits include Midsomer Murders and David Jason drama Diamond Geezer, with Hill's biographer Hilary Bonner as a consultant.
Ranson told US website Deadline: 'When I was a kid growing up in the 70s and 80s I loved Benny Hill, his skits and wordplay and especially his songs. Then as I got older, like the rest of the country, I fell out of love with him. Why was that? What happened?
'Around the world he's still revered but here in the UK, he's all but forgotten. A punchline to a bad joke. I want to reclaim him from the comedy dustbin of history, to explore the Benny nobody knows, the ahead of his time comedy genius of the 50s and 60s and why in his twilight years he fell so hard and so quickly out of favour.'
Hill died in his Teddington home in April 1992 at the age of 68. He was a shy man, who never had any luck with women, often making clumsy advances after falling in love too easily. He also led a simple life despite his wealth, living in a rented apartment where a stash of uncashed cheques were found after his death. His only luxury were frequent trips to France where he could enjoy his anonimity,
Lonely Boy – named after one of his songs – is being made by British company Free@Last, which also makes Ashley Jensen's Sky One series Agatha Raisin.
It will be screened via the on-demand service Acorn in the US, but there is no news yet of any British broadcaster.
Casting has not yet been announced.
Published: 31 May 2018
Recent News
What do you think?