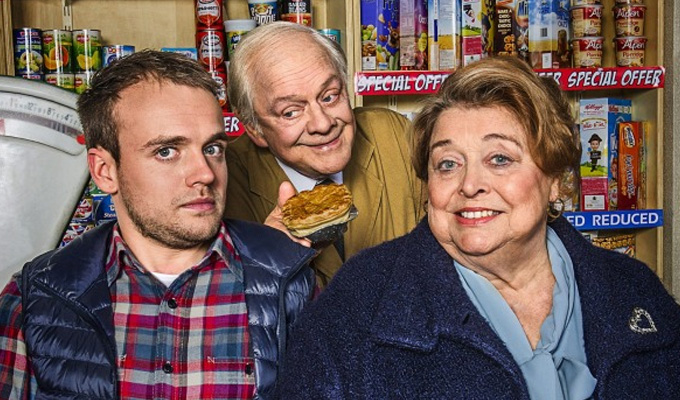 Still Open All Hours is still open
Still Open All Hours is to return to BBC One for a fifth series.
The series has proven a success since it began in 2013, with an average of nearly 6 million viewers per episode.
Location filming and studio recording will take place over the summer.
Star Sir David Jason said: 'I'm thrilled to be bringing Granville and Arkwright's shop back to viewers' TV screens along with his regular customers who bring their own sense of barminess to the world of grocery.'
He will be joined by series regulars: James Baxter, Stephanie Cole, Maggie Ollerenshaw, Brigit Forsyth, Tim Healy, Johnny Vegas, Kulvinder Ghir, Sally Lindsay, Geoffrey Whitehead and Katie Redford.
BBC commissioning editor Gregor Sharp said: 'We're delighted to see Granville flip over the sign on Arkwright's and open up for another series of Still Open All Hours – it's enduring popularity is a testament to the brilliance of Roy Clarke's scripts and the impeccable performances of a cast of comic legends at the height of their powers.'
Executive producer Gareth Edwards added: 'With a cast of national comic treasures and a great new set of scripts it's a pleasure to be paying another visit to Britain's daftest corner shop.'
The new commission means the revival will have more series than the original, which ran for four series in 1976, 1981, 1982 and 1985. Still Open All Hours already has one more episode than the 26 in the original.
Series five will open with Granville trying to offload a large quantity of bargain spectacles.
Written by Roy Clarke, Still Open All Hours is produced by Sarah Hitchcock for BBC Studios and directed by Dewi Humphreys.
Published: 2 May 2018
What do you think?