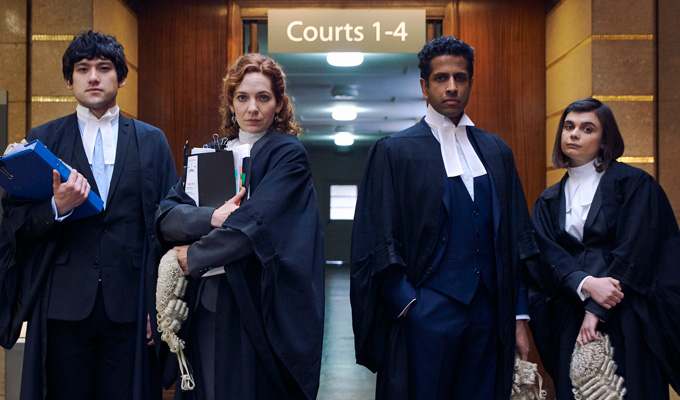 Katherine Parkinson to star in new legal comedy
Katherine Parkinson is to play a cynical lawyer in a new BBC Two comedy.
In Defending The Guilty, the IT Crowd star will play a worldly-wise barrister mentoring idealistic young lawyer Will Packham, to be played by Flowers star Will Sharpe.
The six-part comedy is based on Defending the Guilty: Truth And Lies In The Criminal Courtroom by criminal barrister Alex McBride and has been written by Cuckoo co-creator Kieron Quirke.
The premise is that Will is trying to maintain his ideals, navigate the confusing justice system, and compete against fellow pupils to secure a job at the end of training.
It has been commissioned from producers Big Talk by BBC comedy chief Shane Allen and BBC Two controller Patrick Holland, whos said: 'We only went along for a read through and ended up ordering a whole series! Such incisive writing, cutting humour and a brilliantly rendered world.'
Allen added: 'A terrifically vibrant and sure-footed pilot made for a very quick and easy decision on Defending the Guilty going to series.
'There's a universal theme of having high ideals when entering this professional world versus the cold hard, cloak and dagger reality of how the legal profession truly operates.
'The core cast have irresistible chemistry and the writing fires out whip-smart lines in all directions. A very classy addition to the BBC Two canon of comedy.'
The cast also includes Gwyneth Keyworth, Prasanna Puwanarajah and Hugh Coles and the show is directed by Jim Field Smith, who also helmed The Wrong Mans.
Filming starts at the end of the year for transmission in 2019.
Big Talk chief executive Kenton Allen said: 'Alex's book was expert, authoritative and hilarious and in Kieron Quirke's excellent hands, the real life of criminal barristers will be an eye-popping, roller-coaster ride through our criminal justice system that will make you re-examine everything you thought you knew about Great British justice.'
Here is Mc Bride speaking about his book:
Published: 30 Apr 2018
What do you think?