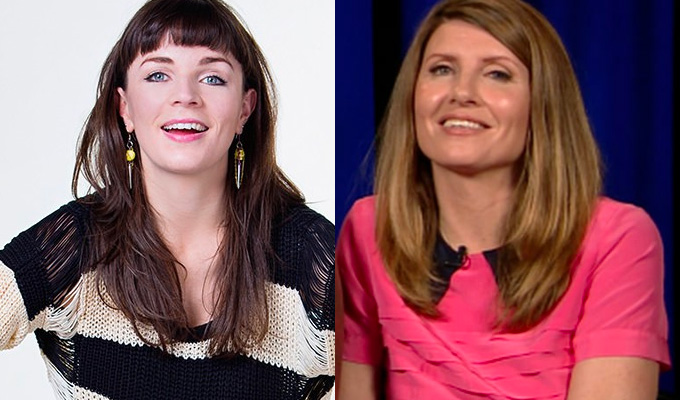 Aisling Bea and Sharon Horgan to play sisters in new comedy
Aisling Bea and Sharon Horgan are to play sisters in a dark new sitcom for Channel 4, Chortle can reveal.
Bea writes and stars in Happy as a woman suffering from anxiety and depression, with Horgan as the older sibling who struggles to look after her.
Directed by Alex Winckler, whose credits include Crims and My Mad Fat Diary, Happy is set to air early next year, Chortle understands.
The commission follows a non-broadcast taster that was shot in December, which also featured Shameless's Dystin Johnson and Bea's real-life sister, Sinéad O'Sullivan, as costume designer.
Bea previously played Horgan's younger sister in Dead Boss, the BBC Three prison sitcom that Horgan co-wrote with Holly Walsh. The Irish pair have also written an unrealised film screenplay together.
'Myself and Sharon met for the first time filming the pilot for Dead Boss and we fell deep in love,' Bea told Chortle in 2015.
'We have been working together for a few years on bits and pieces and when she and Clelia Mountford set up their own production company, Merman, we started chatting ideas and brainstorming things we could make together. We hope to use this as a way of making the most of our similar backgrounds.'
Bea is also piloting a Radio 2 chatshow with Sara Pascoe. What's Normal? was recorded at the Backyard Club in East London this week and aims to explore quirks and eccentricities in order to determine which are normal and which are 'just plain weird'.
The show features the comedians and three celebrity guests chatting about their habits, with the comics and the audience acting as 'judge and jury to whether these quirks are normal or not'.
Bea, who recently recorded a 15-minute Netflix special, has also just landed her first starring role in a US comedy, an as yet untitled pilot for NBC based on the cartoon book I Feel Bad: All Day. Every Day. About Everything by Orli Auslander which uses 'dark humour and brutal honesty' to talk about a woman trying to be the best wife, mother, and friend she can be, 'while simultaneously feeling shitty about virtually everything she does'.
She plays Simone, the main character's childhood friend and 'encourager of all bad ideas' in the pilot, which co-stars The Inbetweeners's James Buckley and is executive produced by Amy Poehler.
Bea is also developing a documentary about suicide with Swan Films, who have made similar, social interest films for television with the rapper Professor Green and artist Grayson Perry. The comic revealed that her father took his own life in a Guardian article in November.
A Channel 4 spokesman declined to comment on the Happy commission.
- by Jay Richardson
Published: 20 Apr 2018
Recent News
What do you think?