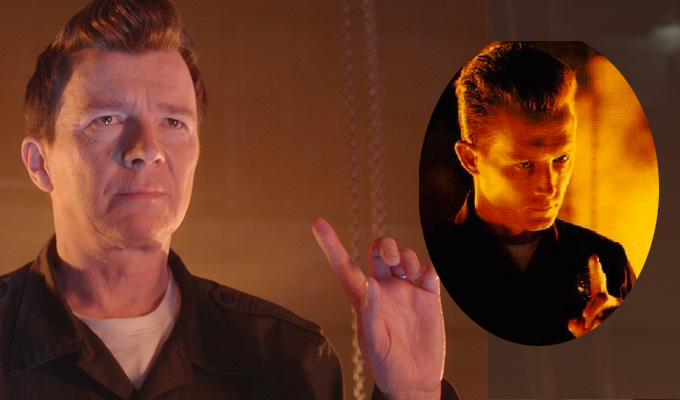 Terminator 2 just got Rick-rolled
We knew he was 'never gonna give you up'… now it appears that those lyrics referred to his tireless pursuit of the T-800 Terminator.
For Rick Astley plays the T-1000 killing machine in a remake of Terminator 2: Judgment Day for the next series of The Keith and Paddy Picture Show.
The 1980s superstar said viewers could expect '…a mix of Pacino, Di Caprio, De Niro and Pinocchio,' from his performance on the ITV comedy.
It is one of five episodes in the next series which will be airing from next month, in addition to Keith Lemon and Paddy McGuinness's take on Gremlins, which will air as a Christmas specia
The above image of Astley – with Robert Patrick, inset, in the original role – has been released as the guest casting has been revealed.
In Grease. Fearne Cotton, Stacey Solomon, Emily Atack and Emma Willis play The Pink Ladies with Marvin Humes as Kenickie. Nicole Scherzinger will play Keith Lemon's vocal coach while Hunter from Gladiators will also make an appearance.
Jurassic Park will feature Sally Phillips, Sian Gibson and Shaun Ryder – as well as Bernie Clifton
In Top Gun, Keith Lemon and Paddy McGuinness will be joined by Sarah Parish, Keith Allen, Marc Warren, Kriss Akabusi and Paul Chuckle.
And Pretty Woman features Amanda Holden, Tracy-Ann Oberman, Philip Glenister and Louise Redknapp and Ainsley Harriot.
Redknapp, pictured above with Lemon, said: 'Apart from being delirious as we filmed on the coldest day of the year, the funniest moment of filming was watching Keith trying to get on a pair of thigh-high PVC boots in a pair of mittens!'
Published: 29 Mar 2018
Recent News
What do you think?