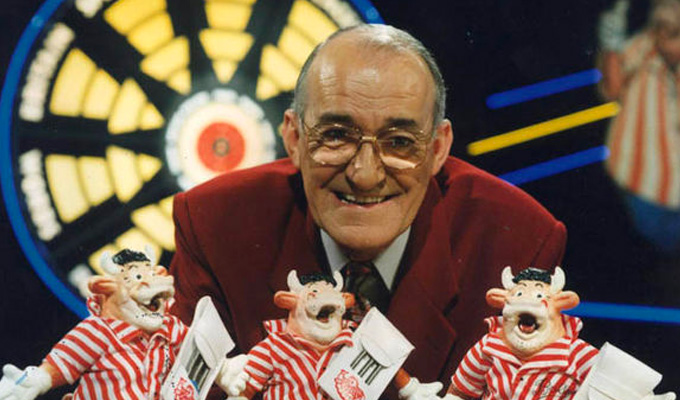 Jim Bowen dies at 80
Comedian and Bullseye host Jim Bowen has died at the age of 80.
His wife Phyllis confirmed the news to BBC Radio Lancashire.
He trained as a PE teacher and later became a deputy head before giving up teaching to become a comedian on the working men's club circuit in the 1960s
His first TV break was on the Granada stand-up show, The Comedians, alongside the likes of Bernard Manning, Stan Boardman and Mike Reid.
But he became a household name when he began presenting Bullseye in 1981. The show ran for 14 years until 1995 and attracted 17.5million viewers at its peak. He said of the show: 'I always said the game was the star. It was downmarket, but accessible. Joe Public could identify with my fallibilities.
'I was so poor at the game show game. I'd say: "What do you do for a living?" They'd reply: "I've been unemployed for two years." And I'd say: "Smashing!" It was just a word to give me a chance to think. '
He went on to host a live morning show on BBC Radio Lancashire from 1999 to 2003, and would tour a live show based on his Bullseye experiences. John Clayton, the station's editor, said: 'Every day was a joy as he took our listeners on a radio adventure where no-one was ever quite sure about the destination, least of all Jim. Sketches, competitions, interviews and even 'talent' shows, Jim handled them all in his unique, irreverent and delightfully shambolic way, but his humanity and his love of life and the people of Lancashire always shone through.'
Bowen also appeared in Phoenix Nights, playing Frank Cartwright, owner of the Hotel Le Ponderosa:
His other TV credits include Muck and Brass, Jonathan Creek, The Grimleys.
Two years ago he had his third stroke, which left him struggling to walk or talk. But he said: 'I have had a good life.'
Among those paying tribute today were Frank Bruno, who tweeted: 'RIP great comic we worked together many times had a lot of laughs together.' ANd Jim Davidson called him a 'great guy'.
His agent Patsy Martin said: 'I will very sadly miss Jim. He was a very lovely, genuine man.'
Published: 14 Mar 2018
Recent News
What do you think?