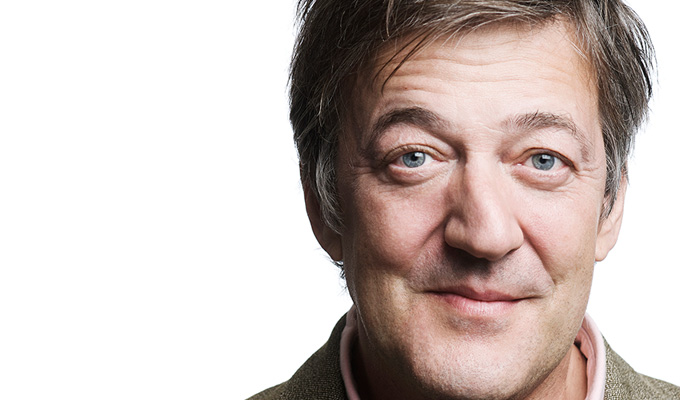 Stephen Fry: I've been fighting prostate cancer
Stephen Fry has revealed that he has been battling prostate cancer.
The former QI host has posted a 12-minute video on to YouTube revealing that he underwent an operation in the first week of January which 'went well'.
Fry, 60, wrote on Twitter: 'For the last 2 months I've been in the throes of a rather unwelcome and unexpected adventure. I'm sorry I haven't felt able to talk about it till now, but here I am explaining what has been going on.'
In the video he explained that he discovered the disease after having a health check following a flu jab. A doctor discovered his prostate-specific antigen (PSA) levels were high and he had an MRI scan, which found the cancerous tissues were found in his prostate.
Fry was offered the options of going through radiotherapy or to have his prostate removed, and opted for the surgery,choosing to go private.
The star said that he has been recovering ever since, reassuring fans that he is 'fit and well and happy'.
He said: 'Cancer is a word that rings in your head. "I've got cancer" I kept saying to myself, good heavens. You're not supposed to get cancer. I know it's a cliche but you don't think it's going to happen to you, cancer is something that happens to other people.
'So far as we know, it's all been got. Are there greater chances of me getting other cancers now? Apparently not. But I won't know for sure until I get my PSA levels checked. They should be zero because I have no prostate, so the prostate specific antigen should be zero.
'But if there's anything left on the bed of the prostate where they've taken it out, it may have spread and I'll have to get radiotherapy and the whole damn thing will start again. But for the moment I'm fit and well and happy and I just wanted to let you know because rumours had started to swirl.'
He also said: 'You have to recover and that's what I've been doing' and thanked the doctors, his family, friends and husband Elliott Spencer for being 'marvellous'.
He said: 'I'm bloody lucky to be surrounded by such wonderful people, and I'm lucky to have an immune system, which is the real hero.'
Fry stepped down from hosting the Bafta awards at the weekend, having hosted in 12 times since 2000.
Published: 23 Feb 2018
What do you think?