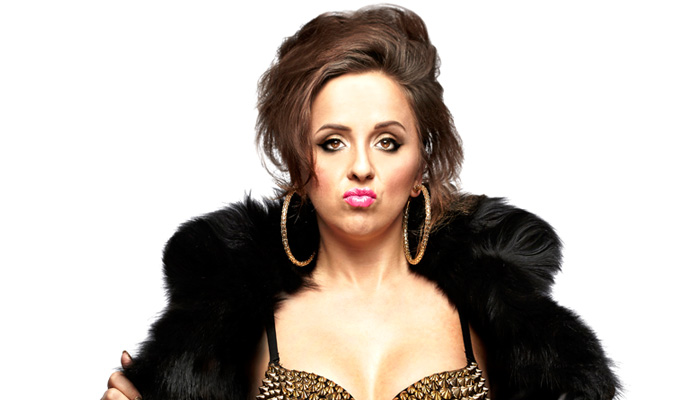 Everyone loves a free show... am I right, ladies?!
This week's comedy on demand.
Luisa Omielan, Am I Right Ladies?!
Here's a bit of a treat. After breaking through - and how! - with What Would Beyonce Do?, Luisa Omielan followed up with this solo show that picked up the ideas of mental health and body image and ran with them, creating another party-style happening which was at once powerful, uplifting and emotional. She'd later call in her personal manifesto.
As a comic who has built her career with the direct backing of her fans, she crowdfunded the recording of Am I Right Ladies?!, which she released as a paid-for download in December 2015. But now she's put the full show out - for free -on YouTube. Enjoy!
Aunty Donna: New Show
Nor is Luisa the only live comedy act to have put out a full special for free this week. Super-energetic Australian sketch trio Aunty Donna have released their old show, confusingly called New Show, on YouTube, too.
There's no substitute for seeing livewires Mark Samual Bonanno, Broden Kelly and Zachary Ruane in the flesh, but this show - filmed at the Enmore Theatre in Sydney, is a good introduction to why their slick and upbeat work has made them audience favourites down under:
Mum
This much-acclaimed comedy, written by Stefan Golaszewski. and starring Lesey Manville as a recently widowed woman in late middle-age, returns to BBC Two on Tuesday. And as a reminder of how good it is - or an introduction for those new to the show - the BBC has released the entire first series as an iPlayer box set. Watch all six episodes here
Chris Rock: Tambourine
Chris Rock's new special is his first in a decade, and discusses the difficulties of raising a black child in America, religion, fate, guns and his own divorce and subsequent attempts to get back on to the dating scene. Occasionally he's been overtaken by other comics - the material on kids today being too soft without real-life bullies, for instance - or by society - some of his relationship stuff seems slightly outdated. But for much of the show he's absolutely on-point, never more so when talking about the killing of young black men by the police, on which topic he's as edgy and relevant as ever.
Read our review of the live version of the show here. And if you're a Netflix subscriber, watch the full special here. Ironically, you could even watch it on the mobile phone you weren't allowed to take into the gig...
Comics' Boxing
In case you missed our story earlier today, the film of this unique and memorable Chortle Award-winning event from 2016 is now available as a download, with all proceeds going to a good cause.
Published: 17 Feb 2018
Recent News
What do you think?