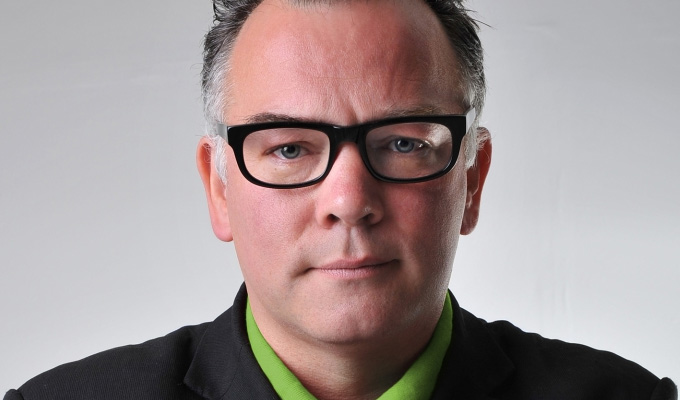 Stewart Lee: Netflix told me I was 'too parochial' for a special
Stewart Lee has revealed that he was rejected for a Netflix special for being 'too parochial'.
The comic admitted he was jealous of stand-ups who landed big-money deals with the streaming service, but accepted that he kept a lower profile than many of his contemporaries, which is how he prefers it.
Lee's international appeal could be boosted by the fact that the controversial Jerry Springer: The Opera, which he co-wrote, is currently being performed off-Broadway. But he admitted he knew nothing of the revival until comic Isy Suttie congratulated him on it.
He is uncertain if he will receive any money from the new production, having relinquished his share of the rights to his former agents, Avalon, which originally produced the show.
'I did have a little bit of jealousy a few days ago when I saw there are a number of people who've just had Netflix specials announced,' Lee told The Stageleft Podcast. 'And none of them are as critically acclaimed as me. And some of them don't even do the [sales] figures that I do.
'But they're the sort of people that are on things, there are adverts for them on the Tube. Whereas when Netflix came to see [his Content Provider show], they said that this tour was too parochial. And I understand that. But if I went on programmes and did chat shows and stuff, or advertise – I don't even advertise really because I don't really need to – then they'd sort of be more aware of me.
'But actually, the trade-off between that and the relative freedom of not being known probably isn't worth it. In a way, not being a household name is the saving grace of the act.'
Lee's wife, Bridget Christie, released her Stand Up For Her show through Netflix. Others with full-length specials for the streaming giant include Ricky Gervais, Russell Brand, Jimmy Carr, Russell Howard and Jack Whitehall.
The wide-ranging interview also touched on how Lee was influenced by The Fall's recently deceased frontman Mark E. Smith and the health impact of intensive touring.
He also suggested that he'd been 'given more credit than I deserve' for Jerry Springer, which he co-wrote with composer Richard Thomas, although 'not financially, I wasn't on a massive split.
'Because I was a bit better known, even then, than Richard Thomas, it tended to attach itself to me' he said. 'And also, to be fair, a lot of the ideas in it that ended up getting us into trouble, the minute it was essentially closed down and we were all bankrupt, were things that I brought to it. So well done to me.'
The show, which had its roots at the Battersea Arts Centre and the Edinburgh Fringe, ran for 609 performances in London's West End from 2003 to 2005. But a BBC Two screening attracted a surge of protests organised by fundamentalist Christian pressure groups, angry at the bad language and the depiction of Jesus.
Of the current revival, he said: 'I assume I'll get paid for it at some point. But it just depends if it finds its way back from Avalon to me. I don't know.'
He said that when he split from the management company in the early 2000s, 'I waited until they paid me anything they owed me and then I didn't sign a new contract. I just went.
'But I knew they would try to hold me to them by saying, "Well, we've got the rights to this, we've got the rights to that". And they produced Jerry Springer: The Opera as a live thing.
'So I sent them a letter saying "I relinquish all rights to it". Because I knew I had to get out, to try to make what I was doing economically viable. And also, the bigger they got, the more corporate. They're like the sort of Uber of comedy now. It would be difficult to do left-wing, liberal stuff being managed by someone like that. So I had to get out. I wasn't really in the loop about what was happening with [Jerry Springer].'
Lee also disclosed that he and Thomas had originally conceived a different ending for the musical but were pressured into changing it by the producer, who wanted a 'West End finale'.
He said: 'We wanted it to end where Jerry Springer is on the floor, dying, he's being cradled by the bouncer. It was a very self-conscious attempt to mimic the shape of The Pieta by Michelangelo, where Mary's cradling Christ, in the Vatican. And there was this holy music all around with a choir of the guests singing and this light coming down … I wanted people to be left with that image. And it was always like that, right up until the last minute when it was finally going to go to the National Theatre.'
Unfortunately, the new finale 'where there were loads of staircases and everyone was dancing around, it put it back to pastiche, which it wasn't meant to be.
'To me it was a thing in its its own right. It didn't only exist in terms of being a parody of musical theatre. And I fought it every step of the way. But I couldn't win the battle.'
He added that the new big finish both added to the cost and reduced its touring potential as the set couldn't be accommodated in many theatres.
Lee , who recently announced he's about to take a lengthy break from touring, also declared that he now had no professional goals outside of stand-up, beyond 'a mad ambition … that I'd like to try and make a Western in the style of 1960s Italian Westerns that is sort of about musical variety acts in the West'.
He also mentioned possibly making a film about post-punk band The Nightingales, who often tour with his hero Ted Chippington, and writing a sitcom with graphic novelist Alan Moore.
- by Jay Richardson
Published: 12 Feb 2018
What do you think?