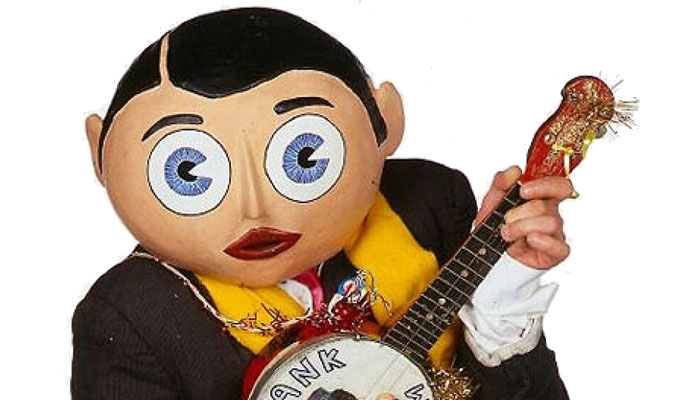 Frank Sidebottom film gets its world premiere
The Frank Sidebottom documentary Being Frank: The Chris Sievey Story, will be released in UK cinemas later this year after its world premiere at next month's South By Southwest Film Festival in Texas, Chortle can reveal.
Johnny Vegas, Ross Noble, John Thomson, John Cooper Clarke and writer Jon Ronson, who played in Sidebottom's Oh Blimey Big Band, are among those interviewed for the film, which explores the life of the man behind the papier mâché head and his impact on alternative comedy.
Being Frank, which Chortle first reported on in 2013, covers Sievey's entire life, including his time as frontman of post-punk band The Freshies in the late 1970s. The band's surviving members and Sievey's family also contribute their memories.
Director Steve Sullivan was bequeathed Sievey's personal collection of Sidebottom memorabilia after his enigmatic creator died of cancer in 2010 – and says the archive will be preserved for the nation.
He told Chortle: 'There are gems I've discovered that people won't have seen before, like his home movies, that make for some of the most surprising, poignant, hilarious moments in the film.
'Let's be honest, even if you know Frank Sidebottom, you probably don't know Chris Sievey. So to get his work out on to an international stage is just awesome and will vindicate everything he did in his life, which most people don't know about because it was so localised. The film is going to allow people inside every aspect of his life.'
Sullivan, who worked with Sievey briefly on the 2008 short film set in his home town, The Magical Timperley Tour, added: 'What surprised me was just the sheer volume of work that the man did in his lifetime, which I don't think anyone really appreciates. It's mind-boggling to me.
'A lot of people said he never slept, he just created every day. From the moment he decided he wanted to be a creative person in his teenage years, he just never stopped.
'He created so much music, so much art, there were so many performances. And it was all quite local and low-key a lot of the time, you wouldn't have necessarily known pre-internet where he was doing his gigs. But just the sheer volume of stuff and how much he preserved!
'Frank was very throwaway, in that he'd throw something into the crowd or destroy it as part of the act. But behind the scenes, particularly with his own music, Chris really meticulously kept it all. Almost like he knew it was important and somebody would be fool enough to come along one day to dig through it.'
The extensive archive – which includes diaries, notebooks, props, costumes and correspondence, as well as reel-to-reel and cassette tapes, videos, Super 8 film and Sidebottom's keyboard – will be kept for posterity, Sullivan maintains. 'I can't announce it yet but I'm working on a plan with his family to make sure that it's preserved forever in a public way.
'It's been one of the great pleasures of my life to be able to go through his archive in depth, hold it, turn a page and make a discovery. And other people need to be able to do that, his fans and fans in the future who have yet to even hear of him but hopefully will because of the film, get to spend time with the stuff and understand him in their own way.
'The film is absolutely crammed with information, his work and every aspect of his personality and life that I could get in there. But it's still only the tip of the iceberg. Going through the physical archive is something else.'
The documentary touches on Sidebottom's encounters with fame. But 'it's not your typical celebrity talking head film' Sullivan explains. 'It's like a secretive life that he led and some of the best characters in it, that people are going to love and respond to the most, are people like members of The Freshies, some of these people are just hilarious raconteurs.
'They've been living their own performance lives in the suburbs and they're not household names. But they're funny, engaging, have some crazy stories to tell and they're not afraid to tell them. I've tried to interview as big a cross-section of his life as I could, cross-referencing and triggering off all these memories in people.'
A Kickstarter campaign raised almost £50,000 to initially fund the film, with pre-orders and further investment accounting for a budget of £300,000.
'There have been times when keeping it going financially has been a labour of love in itself' Sullivan admits. 'But now at the end, that doesn't seem important. And the great thing is, because it was crowdfunded, it wasn't just that people sent money, they sent help – they went through their attics finding things that helped me fill holes in the story. His fans have been unbelievably supportive.'
Backers will receive exclusive rewards for their investment. And the director hopes that the DVD and Blu-Ray extras 'will exceed people's expectations'. A work-in-progress cut of the documentary was screened at the Stockport Film Festival in 2015 and the theatrical release of the film in the UK 'should have events around it, making it as big a possible thing.
'There's so much in Chris's archive that I want people to see all the different aspects of him that the film can only touch on briefly or not at all, his music as well.'
After five years of fully immersing himself in Sidebottom, Sullivan is happy to report that 'I've only had one dream about him, which was Frank Sidebottom wearing the head, climbing on top of me while I was trying to sleep. But no, on the whole I've been pretty nightmare-free considering. I think I've been quite lucky.'
A fictional film, Frank, loosely based on Sidebottom's life and starring Michael Fassbender in the title role was released in 2014. Written by Ronson and Peter Straughan, it drew on the former's account of life in Sidebottom's band, but was set in contemporary Ireland and America.
Other comedy films premiering at this year's SXSW include:
• Wild Honey Pie, the latest feature from A Brief History of Tim director Jamie Adams, which stars Girls actor Jemima Kirke alongside Alice Lowe, Brett Goldstein, Sarah Solemani and Joanna Scanlan
• You Can Choose Your Family, starring stand-up Jim Gaffigan as a bigamist being blackmailed by his teenage son
• The Last O.G. with 30 Rock's Tracy Morgan as an ex-con
• US Office star John Krasinski's second film as a director, A Quiet Place
• The Bill Murray Stories: Life Lessons Learned From A Mythical Man, about the celebrated actor's unexpected adventures with ordinary people
• The first screening of the HBO sitcom Barry, starring Saturday Night Live alumni Bill Hader as a hitman.
- by Jay Richardson
Published: 9 Feb 2018
What do you think?