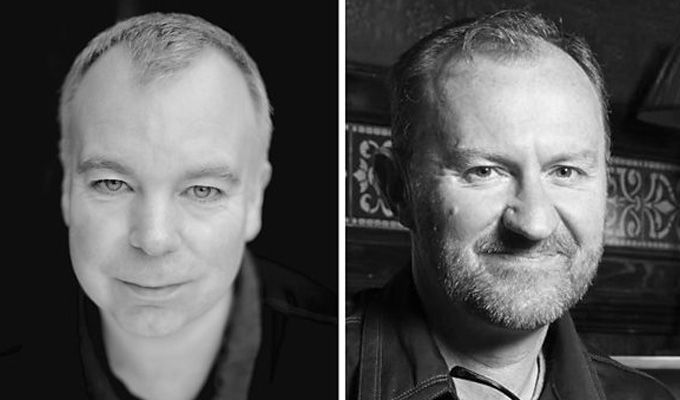 Another League Of Gentlemen reunion... of sorts
Mark Gatiss and Steve Pemberton have joined their League of Gentlemen colleague Reece Shearsmith in the cast of the BBC comedy Good Omens.
The pair will be taking on the roles of mysterious book-buyers Harmony and Glozier in the TV adaptation of Neil Gaiman and Terry Pratchett's bestselling comic fantasy.
Last year it was revealed that Shearsmith was playing William Shakespeare in the show, which is a co-production with Amazon Prime.
Filming of the six-part series is currently under way in and around Cape Town, South Africa.
Michael Sheen and David Tennant play the leads: fussy angel and rare-book dealer Aziraphale, and fast-living demon Crowley respectively.
Gatiss said: 'I'm delighted to be working with David and Michael again and of course with Steve - bringing a little film noir menace to such an exciting project. Being bad never felt so good!"
Pemberton added: 'To be asked to fly to Cape Town with Mark and meet up with old friends David and Michael working on a script from the genius mind of Neil Gaiman...? Well, you had me at Cape Town.
'Glozier and Harmony are a small piece of the Jigsaw but hopefully one which will fit nicely into place.'
Gaiman, who is also showrunner on the new series said: 'Part of the joy of Good Omens is getting to see what our angel and demon have been doing during human history. And part of the joy as a writer is writing parts with specific actors in mind. Steve Pemberton was my only choice for Glozier and Harmony has to be Mark Gatiss, in a film noir interlude set in 1941.'
The cast also includes Jack Whitehall, Jon Hamm, Nina Sosanya, who plays Lucy Freeman in BBC satire W1A, Miranda Richardson, Michael McKean, Anna Maxwell Martin, Derek Jacobi and Nicholas Parsons – who will be the voice of God . It was also announced today that Jamestown actress Niamh Walsh has joined the show, playing the part of Rose.
Filming will conclude in early March and launch globally – including the UK – on Amazon Prime Video next year. It will then air on BBC Two at a later date.
Published: 9 Feb 2018
Recent News
What do you think?