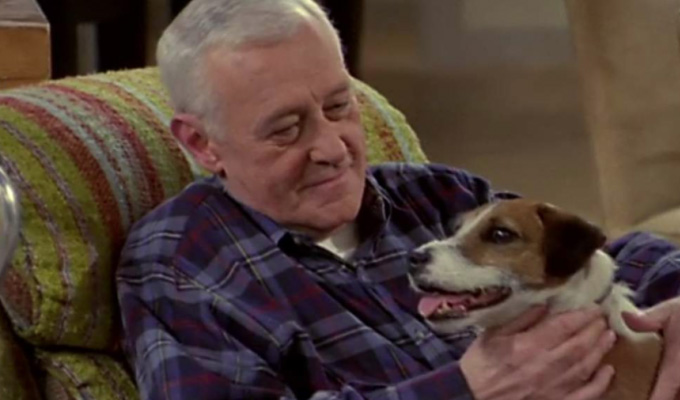 Frasier star John Mahoney dies at 77
John Mahoney, best known for playing Frasier and Niles's father Martin Crane for 11 years, has died at the age of 77.
He died in Chicago on Sunday while in hospice care, his manager Paul Martino said.
Among those paying tribute on Twitter were British comedy writer David Schenider, who said Mahoney was 'the perfect comic actor because you saw no acting. What a legacy'.
Gyles Brandreth said: 'Frasier was such a wonderful series & John Mahoney helped root it in reality. Thanks for so much pleasure.'
Jeff Greenberg, who was casting director on Frasier and latterly Modern Family, added: 'I've not known a kinder man nor more brilliant actor. We were all blessed to have spent 11 glorious years together.'
And Wall Street Journal drama critic Terry Teachout said: 'R.I.P. More than just a sitcom star, he was a stage actor of the highest distinction whom I reviewed several times, always with admiration and delight. I grieve at his passing.'
Born in Blackpool in 1940, while his family had been evacuated from Manchester, the actor emigrated to the US at the age of 19 when his older sister, Vera, a war bride living in rural Illinois, agreed to sponsor him.
He served in the US and served in the Army to speed up his citizenship process, then taught English at Western Illinois University, before getting a job editing medical journals.
Dissatisfied with his career, Mahoney took acting classes at St. Nicholas Theatre, which inspired him to quit his day job and pursue acting full-time. He later said: ' I was 37, and all of a sudden I just sort of started going through this dark night of the soul where I just [thought}, "Is this going to be it for me, am I going to be spending the rest of my life writing about cataracts and hemorrhoids?" It was just not what I wanted to do, and I was just intensely depressed all the time.'
He joined Chicago's famous Steppenwolf ensemble theatre in 1979, where his role in the Kyle Kessler's play Orphans got him noticed, and even 20 years later he said the role 'affected people more than any other play I've ever done. I still get mail from it, I still get people stopping me on the street'.
The company said on Twitter: 'It with our deepest sorrow that we share the news that ensemble member of 39 years John Mahoney' and cancelled tonight's show to hold an impromptu wake in its bar.
After a successful stage career, Mahoney's first major film role was in the 1987 Barry Levinson film Tin Men. He went on to have prominent roles in a number of films throughout the late 1980s and 1990s, including Eight Men Out, Moonstruck, In the Line of Fire, Reality Bites, and The American President. He has also appeared in two Coen brothers films: Barton Fink and The Hudsucker Proxy.
Mahoney appeared in Frasier from its inception in 1993 until the final episode in 2004, receiving two Emmy nominations and two Golden Globe nominations for this role. Here are some of his finest moments:
He previously appeared in Cheers, where he had a brief conversation with Kelsey Grammer's Frasier – but in that sitcom he was not Frasier's father but an inept jingle writer called Sy Flembeck.
In 2007, Mahoney provided the voice of Dr. Robert Terwilliger, Sr. – the father of Grammer's Sideshow Bob – in The Simpsons while his other credits include the Broadway revival of Prelude to a Kiss, playing an elderly drag queen in an episode of ER and a recurring role on Hot in Cleveland as Roy, the love interest of Betty White's character, Elka.
Mahoney never married – although he had been in several relationships – and didn't have any children. He tended not to speak about his private life, but revealed in one interview that he had suffered colon cancer in 1985 which involved a colostomy, adding: 'I really couldn't have sex after that. I'm very happy by myself and with my friends, but no, I'm definitely not involved with anybody. Nor do I ever look to be.'
Published: 6 Feb 2018
Recent News
What do you think?