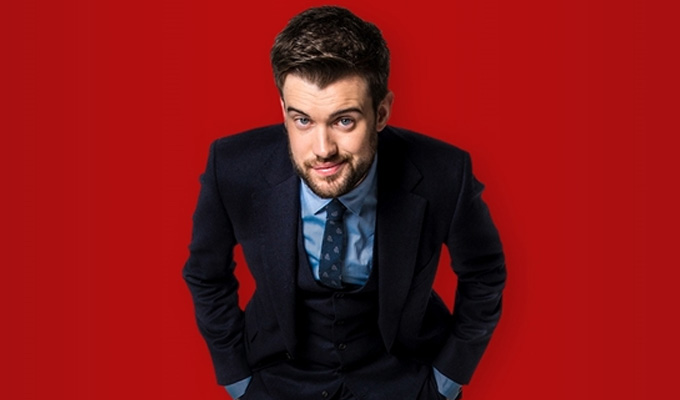 Jack Whitehall: I regret my bad-taste Queen joke
Jack Whitehall says he regrets making a bad-taste joke about the Queen – because of the backlash he received.
The comedian hit the headlines when he took part in the Big Fat Quiz Of The Year at the start of 2013.
The show was widely criticised for going 'too far' for a number of gags, including Whitehall suggesting that the Queen remained standing throughout her Jubilee Thames trip because she'd caught a urinary infection from the Duke of Edinburgh.
But speaking on Radio 4's Desert Island Discs today, he called it 'a crass joke… I actually regret.'
He said the press attention affected his family adding: 'That was not nice because it was something I'd said that caused them upset and that was the bit that hurt the most. I'm fine, I have a relatively thick skin, but I never wanted to drag them into it.'
And he admired he 'self-censored' his jokes more since the incident.
Whitehall also admitted that his workaholic tendencies meant 'you sacrifice spending time with people that you care about.'
'I got very bad at it. I'd come to life when on a show and I'd be upbeat and fun, and when I was with [my family], I was kind of twitchy and on edge and anxious about work.
'I'd see them for an hour for lunch and bugger off, and I wasn't giving them the best version of myself, and that really upset me.'
He has since involved his family more in his career, such as making the Netflix travelogue he made with his father Michael, and casting his mother Hilary in a small part in BBC Three's Bad Education.
Whitehall also insisted his dad's showbiz connections did little to boost his career, saying: 'To become a stand-up comedian, the fact that my dad used to look after Christopher Biggins doesn't necessarily help you get stage time.'
Among his record choices were The Circle Of Life from The Lion King, joking that he had a mental image of his godfather Nigel Haver – who was present at his birth – holding him aloft like the famous scene from the movie.
Desert Island Discs is on BBC Radio 4 on Sunday at 11.15am.
Published: 4 Feb 2018
Recent News
What do you think?