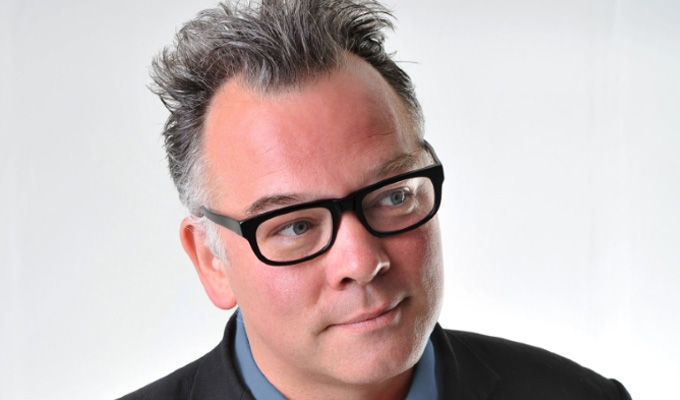 Stewart Lee 'to take a break from stand-up'
Stewart Lee is to take a long break from stand-up after his current tour ends this spring.
The comedian has announced three swansong gigs for his Content Provider show at London's South Bank centre in April.
After which, the father-of-two, who turns 50 this year, says he intends to take the longest break from stand-up he's had since his 'four-year disappearance at the start of the century'.
Content Provider is Lee's most successful full-length show ever, and has been touring for almost two years, launching after the BBC axed his Comedy Vehicle in 2016. (Click here for the remaining dates).
The blurb for the shows at the Royal Festival Hall on April 19, 20 and 23 says: 'Join him on these special evenings as he finally abandons two hours of monetisable material and performs the show for the very last times.'
Lee announced his intended sabbatical in a newsletter to yesterday.
Meanwhile, the comic has just released an experimental improvised industrial jazz album with avant-garde outfit Capri-Batterie.
He spent an hour in a Bristol studio last October ad-libbing words to the spontaneous sounds of the drums, trumpet and bass trio of Kordian Tetkov, Tim Sayer and Matthew Lord..
Bristol Fashion has been released via Bandcamp priced £7 and includes tracks such as Wolverhampton Ghost and the 28-minute Telly Savalas Looks At Birmingham. Click here to buy the album and to hear some sample tracks.
• The Ballad of Shirley Collins, a documentary about the English folk singer that Lee contributed to, is now on Lush Player. It can be watched free for the next two weeks here.
Published: 31 Jan 2018
What do you think?