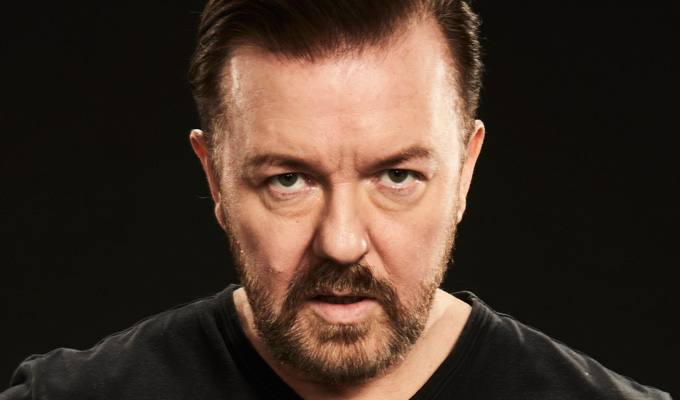 When does Ricky Gervais's Humanity come to Netflix?
Ricky Gervais's stand-up special, Humanity, is to be released on Netflix on March 13, the comic has announced.
He announced the news on The Late Show with Stephen Colbert and followed up with a tweet to his 13million Twitter followers.
As Chortle first reported in October, Gervais sold the rights for the highest fee ever paid for a UK stand-up special, although the exact figure remains secret.
Trade bible Variety estimates that Netflix pays $10million to $20million for a special from high-profile comics.
Gervais previously posted on his blog: 'I filmed the show during my three-week residency at the Eventim Apollo in London and Netflix have bought the resulting 75-minute special. It's my favourite, and I believe best, stand-up tour ever.'
The comic has also predicted that the wider audience Netflix gives to his work is likely to prompt more complaints from offended viewers.
He's said: 'It'll go on Netflix and everyone will complain about their thing. There are 20 things that I talk about and there'll be 20 different groups that will pick up on their thing in that 20. I don't know what to do really, you've just got to keep fighting the good fight.'
Gervais was the seventh UK comic to land a Netflix special and the fifth after Jimmy Carr, Katherine Ryan, Jack Whitehall and Russell Howard to secure an international release.
He is also making an as-yet-untitled comedy-drama for the streaming service about a man who contemplates suicide after his wife dies – but then realises he should instead do and say whatever he wants in the knowledge that he can always end his life if it becomes too much.
Published: 19 Jan 2018
What do you think?