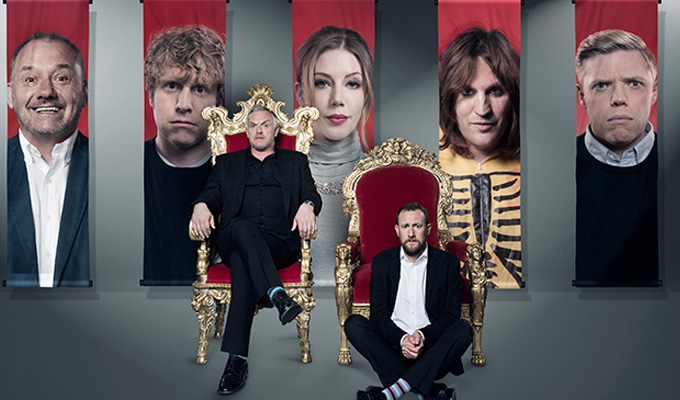 Taskmaster seeks its champion of champions
The best of the week's comedy on TV and radio.
Monday December 11
THE SMALLEST SHOW ON EARTH: This 1957 comedy film involves a young couple who inherit a fleapit of a cinema and try to keep it afloat against a glitzy rival (a building that's now the Hammersmith Apollo, incidentally). Real-life couple Bill Travers and Virginia McKenna play the leads, while the supporting cast includes Peter Sellers, Margaret Rutherford and Sid James. Talking Pictures TV, 6.30pm
Tuesday December 12
A LEAGUE OF THEIR OWN: Series 12 of the sporting panel and challenges show comes to an end with a 'best of' special. Sky One, 9pm
Wednesday December 13
TASKMASTER: The reinvention of the panel show returns with previous series winners Josh Widdicombe, Katherine Ryan, Noel Fielding, Rob Beckett and Bob Mortimer competing over a  new set of challenges to be crowned Champion Of Champions. Greg Davies once again rules as the all-powerful Taskmaster with loyal assistant Alex Horne, the format's creator, by his side. Dave, 9pm
JEREMY HARDY FEELS IT: The comic returns for a new series… and with a major departure. In this show he's actually happy. Radio 4, 6.30pm
Thursday December 14
THE ORVILLE Just as it draws to an end in the US, the new sci-fi comedy from Family Guy creator Seth Macfarlane comes to the UK.  Inspired by Star Trek, The Orville is named after the spaceship that Ed Mercer (Macfarlane) is given to captain… only to discover that his ex-wife, Kelly Grayson (Adrianne Palicki), has been assigned to be his First Officer. Fox, 9pm
TOMMY COOPER FOREVER: The first of two programmes, using previously unseen footage, tells of how Tommy scoured the magic shops of London to create his routine and traces his extraordinary journey from South Wales to top of the bill at the Palladium, with the help of family, friends who worked with him and famous fans. Episode Two is tomorrow. ITV3, 9pm
Friday December 15
NO SMOKE: Comics Hardeep Singh Kohli and Maddy Anholt wrote and co-star in this one-off comedy-drama about a man trying to save his failing EVapeOr8 Vape café in Dundee, with the aid of the enthusiastic Shazza. Listen out for stand-up Bilal Zafar in a supporting role, too. Radio 4, 11.30am
Saturday December 16
LEAGUE OF GENTLEMEN NIGHT: Two days before the team return for three new TV episodes,  Radio 4 Extra offers a three-hour showcase of the original 1997 radio series. Reece Shearsmith introduces the show and talks about its genesis in between all six episodes of the original series On The Town With The League Of Gentlemen. Radio 4 Extra, 7pm.
Published: 10 Dec 2017
What do you think?