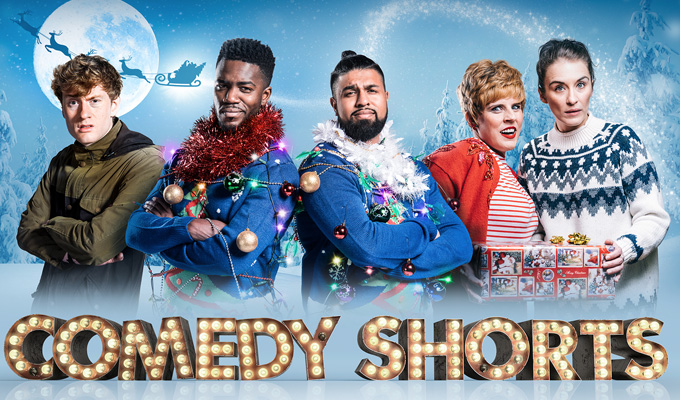 James Acaster makes a Sky comedy short
James Acaster and Diary Of A Badman star Humza Arshad have made Christmas comedy shorts for Sky.
A third film comes from a little-known internet character called Charity Shop Sue, the alter-ego of Nottingham-based Selina Mosinski.
Acaster's film revolves him being asked to turn on the Christmas lights in his Kettering home town, with the comic vowing to be 'the best Christmas light turner-onner that Kettering has ever had'.
This one-off documentary follows James in the lead up to 'the happiest day of my life' as he interviews previous light switchers, talks to local residents and tries to get to the bottom of last year's notorious Lindsay Lohan incident.
The Mean Girls star agreed to turn on the lights after tweeting: 'Sorry, but #KETTERING where are you?" as 61 per cent of its residents voted Leave in the EU referendum.
Then the town's MP, Philip Hollobone, invited Lohan to switch on the lights, which she agreed to do on Twitter. But subsequent efforts to track her down were in vain, so former EastEnders actress Cheryl Fergison, who was appearing in panto in the town, stepped up instead.
Acaster's film is made by Guilty Party Pictures, set up by producer Spencer Millman and comedians Simon Bird and Jonny Sweet.
In Arshad's short he appears opposite Mo Gilligan – also known as Mo The Comedian – as a par of office interns and loveable idiots who find their friendship tested when they both develop a crush on Fran, the new office manager, played by former Inbetweeners star Emily Atack.
When she reveals how much she loves Christmas jumpers, the pair set about assembling the most epic Christmas knitwear ever seen in a bid to win her attention.
The cast also includes Martin Trenaman and Omar Mohidin. The short was co-written buy Max Davis, and is made by London-based Big Deal Films, which specialises in working with black, Asian and minority ethnic talent.
Charity Shop Sue is manager of the Bulwell branch of Sec*Hand Chances charity shop – and a character who has 9,000 followers on Facebook.
In her Christmas special, she and her volunteers are taking part in a Christmas present appeal, but donations are slow… and a visit from the charity's celebrity ambassador, the actor Vicky McClure, is imminent.
Stuart Edwards, Timothy and Matthew Chesney wrote the script – having worked on the character since 2012 and previously making an online mockumentary pilot – and the film was made by Nottingham's Spool Films
Here is one of Charity Shop Sue's Facebook videos:
Published: 7 Dec 2017
What do you think?