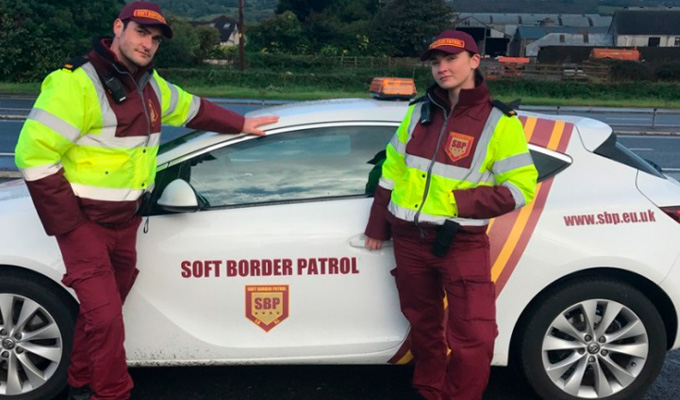 BBC makes a Brexit sitcom
The BBC is making a Brexit sitcom about the controversy surrounding the Irish border.
Soft Border Patrol is a mockumentary for BBC Northern Ireland set in a future where a team tries to help commuters cross between the North and the Republic smoothly and swiftly, but not always successfully.
Currently in post-production, the three-part series will air next year and was developed as part of the BBC Writersroom initiative. It is made by the Glasgow-based Comedy Unit, which currently produces the police spoof Scot Squad for BBC Scotland. Scot Squad's Iain Davidson directs Soft Border Patrol, too.
Photos of a car emblazoned with 'Soft Border Patrol' were posted on social media during filming in County Antrim in September, prompting speculation that it was part of a genuine government initiative to tackle the intractable question of the Irish border when the UK leaves the EU customs union.
As with Scot Squad, the dialogue is largely improvised, performed by an as yet undisclosed cast.
The British government is aiming for a deal that will avoid physical infrastructure at the Irish border post-Brexit, but the Irish government says the UK will have to find an arrangement similar to the customs union if it is to avoid a hard border.
Labour MP Kate Hoey attracted comparisons to Donald Trump this morning for suggesting that Ireland would have to pay for a physical border if Britain leaves the EU with no deal.
Soft Border Patrol is produced by Marie McDonald executive produced by Justin Binding for BBC Northern Ireland and by Rab Christie and Gavin Smith for The Comedy Unit.
- by Jay Richardson
Published: 27 Nov 2017
What do you think?