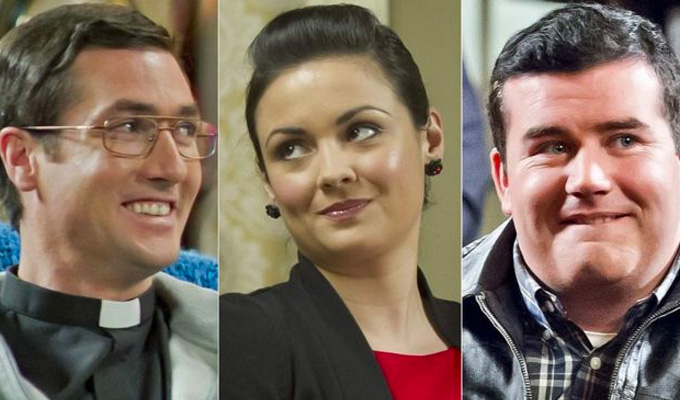 Mrs Brown's tax avoiders
Three stars of Mrs Brown's Boys have been named as diverting more than £2million into an offshore tax-avoidance scheme.
Actors Patrick Houlihan and Martin and Fiona Delany transferred their fees into companies based in Mauritius and sent money back as loans, according to the leaked Paradise Papers.
Martin Houlihan plays one of Mrs Brown's sons, Dermot, and Fiona is his wife both in real life and on the show, where she plays Maria. She is also the daughter of the show's creator Brendan O'Carroll. Delany stars as Trevor Brown, the youngest son
O'Carroll says he paid all the actors through a UK bank account and neither him nor his company, BOC Productions, is involved in any tax avoidance. Houlihan told the Irish Times he had joined the scheme after receiving professional advice without fully understanding it. The other actors have not responded to requests for comment.
After being paid, the UK company transferred the money to a trust set up in Mauritius by Appleby. The actors were self-employed contractors for the trust, which then passed the money to three more offshore companies which the actors had 'effective control' of. They them advised that company that their earnings should be sent back to their personal bank accounts in the form of loans.
The complex arrangement would allow the actors to avoid income tax and national insurance.
The controversy was reported by the BBC, whose Panorama programme is part of a consortium of investigative reporters worldwide who have obtained a cache of documents dubbed the Paradise Papers held by offshore law firm Appleby.
The BBC reports that accountant Roy Lyness, put the stars in touch with the advisers behind the set-up. He was the man behind the similar K2 scheme, based in Jersey, so controversially used by comedian Jimmy Carr.
O'Carroll's production company is registered at accountant Mr Lyness's office in Oldbury in the West Midlands. Mr Lyness told the BBC he was unable to 'divulge confidential information concerning my clients' financial affairs'.
The Paradise Papers have also exposed offshore interests held for the benefit of the Queen and Bono.
HMRC is likely to challenge the use of such schemes, and MP Meg Hillier, who chairs the Commons Public Accounts Committee, said today: 'If it's not outside the actual rules it's certainly... way outside the spirit of the rules.'
• Full report as well as other Paradise Papers revelations on the BBC News website.
Published: 6 Nov 2017
What do you think?