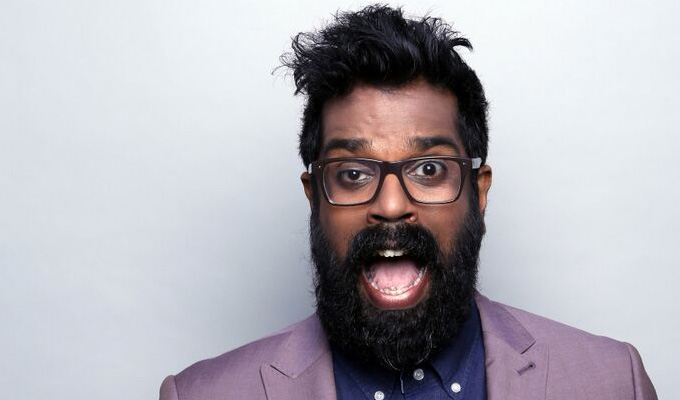 Can Romesh Ranganathan crack America?
Romesh Ranganathan has left the UK to crack America – with his efforts being recorded for a TV show, Chortle can reveal.
The reality documentary series, Breaking Romesh, will cover his time Stateside and will air on the Showtime premium cable channel in the US.
His efforts will culminate in a gig at the prestigious outdoor Greek Theatre on December 21. The comic has tweeted: 'Despite having no profile in the US I am doing a show at the 5,000-seater Greek in LA. Please help me not be alone.'
Ranganathan is currently gigging in Los Angeles clubs – including playing the Hollywood Improv tomorrow night – a visit which marks his first time performing stand-up in the US.
Last month, he dryly joked to fellow comics Cameron Esposito and Rhea Butcher that 'I've got nothing going on in the UK.
'I really love US stand-up and grew up watching US stand-up,' he told their podcast after a show at the Upright Citizens Brigade Theatre recently. 'So I thought I'd come over here to see how it is, to be in amongst it.'
As Chortle first reported in July, Ranganathan has already shot a documentary in Los Angeles about his hero Richard Pryor for Sky Arts, saying that 'spending time in LA talking to various people about his life, I felt grateful for both the experience and for the fact he didn't spend his life in Hastings.'
The British comic's previous travelogue series, BBC Three's Asian Provocateur, also ended with him visiting relatives in LA.
However, he is not turning his back on the UK, having made The Reluctant Landlord, loosely based on his own brief experiences running his late father's pub, for Sky 1.
Ranganathan told Esposito and Butcher that working in a new country was difficult because of his social awkwardness.
'I'm not good in a green room,' he said, of encountering fellow comics backstage. 'It's weird because I feel like people are making judgements about me in the green room.
'So tonight when I sat down I thought "shit, you only get one chance to make a first impression and if I say something that's construed as cocky or arrogant, then I'm going to be the prick from the UK".
'I get really nervous about it. Whereas in the UK, all the comics know that I'm not great socially.'
Production has already begun on Breaking Romesh, which was described as 'not tongue-in-cheek' to Chortle but a genuine attempt to transplant Ranganathan's stand-up career to America.
The show is made by reality-documentary specialists Renegade 83 Inc, part of Canadian entertainment giant Entertainment One, who recently established a Los Angeles studio and have signalled their intent to work with more UK talent.
Yesterday, ITV2 announced that Keith Lemon was also making a documentary about his attempts to crack America and land his own chat show. Guest stars on Keith Lemon: Coming In America will include Sharon and Jack Osbourne, Emma Bunton, John Barrowman and Gene Simmons
- by Jay Richardson
Published: 5 Oct 2017
What do you think?