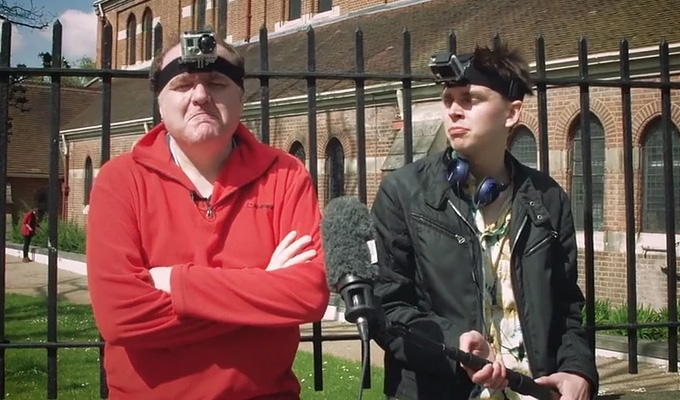 In Search Of Something...
This week's best comedy on demand.
Ed Aczel & Joz Norris: In Search Of Something
You've heard of anti-comedy, here's the anti-documentary in which two comedians aim to discover something, but they don't know what it is. Something to do with what it's like to escape the rat race, perhaps, though they can't be doing with going too far to find it. With Norris's eagerness and Aczel's deadpan, they make an odd couple of know-nothing investigators:
Wedlock with Kurt and Lauren
This is an audio podcast from newlywed comedian duo Kurt Braunohler and Lauren Cook, in which they struggle with the first year of marriage and investigate all aspects of human relationship.
Previously available on Audible, the series was given a wider release this week, when the first of six episodes came out across the usual podcast channels. A new one will now be released each Tuesday.
Episode one starts, perhaps oddly, on the subject of cheating. On the show the pair speak to a 'webcam girl' about monogamy, find out about a clothing-optional resort , watched bonobos have sex to understand cheating, and chatted to a man who stayed with his transgender spouse after his transition from wife to husband
Listen here
World Of Pub
This cult sitcom from 1998/9 has just been repeated on Radio 4 Extra, hence it's back on iPlayer. Written by Tony Roche, who went on to be a writer and executive producer of Veep, each episode was set in an unsuccessful pub in London's East End (which ends up destroyed at the end of every half-hour).
John Thomson plays Dodgy Phil, one of only two regulars who keeps coming up with outlandish schemes to improve the pub – this time around trying to get a slice of millennium cash and getting some help from Jarvis Cocker.
It also stars Phil Cornwell, Alistair McGowan, Debra Stephenson and Simon Greenall.
Listen here
Hal Cruttenden - Straight Outta Cruttenden
Consummate comic
Hal Cruttenden
's self-deprecating 90-minute show about posh-boy guilt is released via the on-demand service NextUp. His cuddly demeanor covers some effected grumpiness about the likes of social media and the 5:2 diet as well as more significant issues such as sexism. Watch
here
if you're a subscriber.
Published: 23 Sep 2017
What do you think?