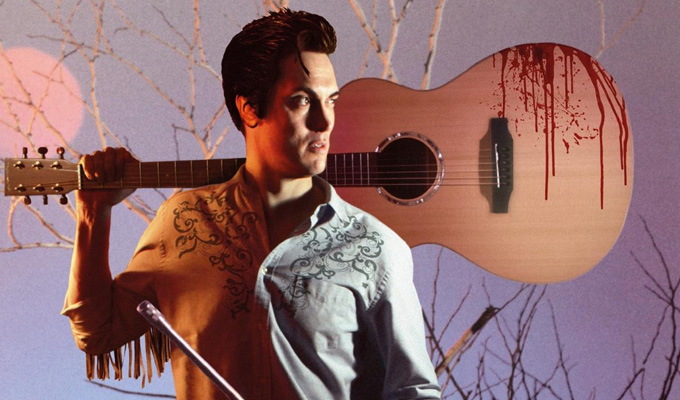 Elvis Dead is the comedians' favourite
Mat Ewins, Rob Kemp and Bob Slayer have won the Comedians' Choice Awards at the Edinburgh Fringe.
It is the second victory in a row for both Ewins and Slayer in the accolades, in which every festival performer can have a say.
Kemp was named best performer for The Elvis Dead, the cult hit of the festival, which tells the story of horror film The Evil Dead 2 through the songs of Elvis Presley.
He said: 'Wow this is amazing! A nod from your peers, acceptance and approval from people you admire is a thing I have been chasing for some time, and will do my self-confidence he world of good.
'Thank you to those who voted for me, and to those who didn't, I will try harder next time (more blood! More plates! Everything, but more so.'
Kemp has said that he plans to follow up the show with Beatlesjuice – Beetlejuice to the songs of The Beatles.
He said today: 'Beatlesjuice is just a joke though, I won't be doing that… OK, I might"
Also shortlisted for best performer were Jayde Adams, John Kearns, Jordan Brookes, Lucy Pearman, Mat Ewins and Russell Hicks
Mat Ewins Presents Adventureman 7: The Return of Adventureman – which had also been nominated for the lastminute.com Edinburgh Comedy Award was named best show.
It triumphed over The Elvis Dead, Jordan Brookes: Body of Work and the Dr Who based improv show Any Suggestions, Doctor?, which had all been shortlisted.
Ewins won the same award last year for Mat Ewins Will Make You A Star.
Notably, neither of the two comics who shared the official Edinburgh Comedy Award –Hannah Gadsby or John Robins – featured in either list.
Bob Slayer was named 'Best Person' at the Fringe for the second year for his Heroes At The Fringe venues.
He said: 'Thank you – Lets keep pushing back against the establishment and reclaim the fringe for performers and punters. Next year is going to be a very interesting year.'
Also nominated were Alex Petty of the Laughing Horse and comedians Mark Silcox and Martin Mor.
The awards are organised by comics Gareth Morinan and Barry Ferns, with winners decided by an online vote.
Published: 27 Aug 2017
What do you think?