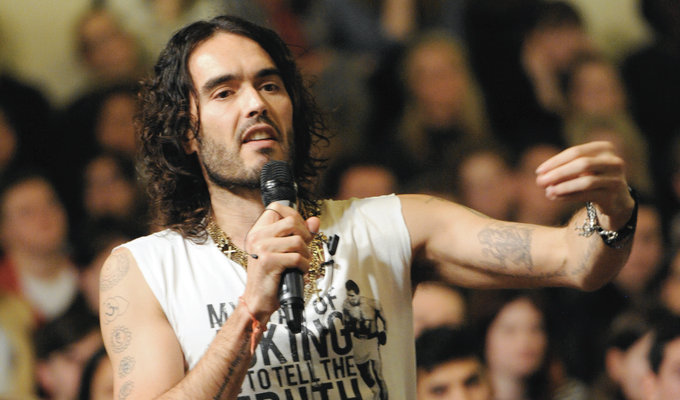 Russell Brand: TV needs to be more authentic
Russell Brand has called for more authenticity in TV.
He said that viewers are seeking a 'sense of connection and sense of truth' that has been missing from the media, and which he tried to achieve with his online series The Trews.
'It was very direct,' he said. 'The fewer layers of camouflage, the less production, the more I would enjoy it.
'People are wanting something that feels true. The language of politics has been stripped of emotion. It feels like a veneer. It doesn't feel honest.
'Trump and Farage have a certain type of resonance. No matter whether what he says isn't true, the way Trump says it seems truthful when compared to Hillary Clinton.'
'I'm not a person who's had a university education but what I intuited was that there was too much bullshit. People didn't vote for Trump for this policy or that policy, it's a carbuncle of rage erupting. If there is an avatar of anger, people will attach to that.'
He said The Trews was 'meant to be light and fluffy - a comedic device, light-hearted comedy, but it escalated' – culminating in Ed Miliband giving a pre-election interview in Brand's London flat.
The comic was speaking at the Alternative MacTaggart lecture at the Edinburgh TV Festival, where he echoed the 'sense of disjunct' between the media and much of the population that Jon Snow made during the real MacTaggart lecture yesterday. The Channel 4 newsreader came to that realisation after covering the Grenfell Tower tragedy.
Brand said that some of the favourite TV moments that he created were when it 'didn't feel like a contrivance' – such as the showdown between the hatemongers of Westboro Baptist Church and gay men on his American TV show.
'Dynamism and conflict are vital components in whatever genre of television we're in,' he said, adding that it was exciting when different elements of society – or echo chambers – collide.
Brand also spoke of the power of comedy as a way of punctuating the 'facade' everyone puts up. He cited his love of Tommy Cooper, as someone trying to do a magic show but couldn't pull it off, saying it was a reminder how 'none of us can pull of our own lives'.
But he also admitted that authentic performers needed experienced TV producers to guide them. 'I'm a good individualistic performer but I need a good team around me,' he said, recalling some of his earlier TV work when he perhaps had too much freedom.
'What's required is ways of working together collaboratively where we come to a good consensus, but not thinking "What do they want?",' he said.
Brand added that he learned a lot from his US talk show, Brand X, which became compromised.
'I watched as the external exposition of cliche was placed on the talk show – and it was my fault because I didn't have a clear vision of what It was. And I didn't put the work in.'
Brand, who was being interviewed by his radio sidekick Matt Morgan, also admitted: 'We do want to do more telly, that's why we've come here.'
Published: 24 Aug 2017
What do you think?