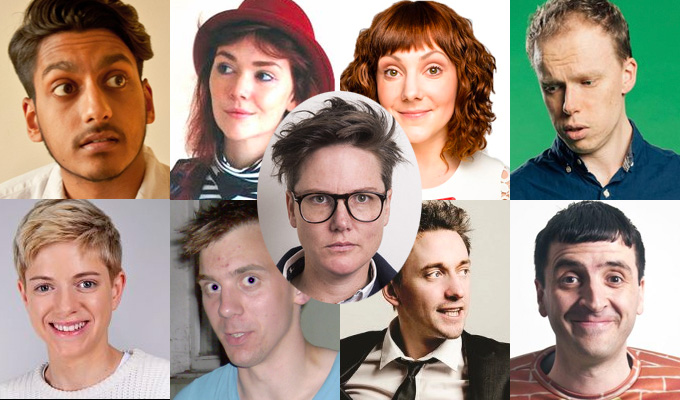 Record NINE nominees for Edinburgh comedy award
A record nine nominees have been announced for this year's lastminute.com Edinburgh Comedy Award.
They are:
Ahir Shah: Control
Elf Lyons: Swan
Hannah Gadsby - Nanette
John Robins: The Darkness of Robins
Jordan Brookes: Body of Work
Mae Martin: Dope
Mat Ewins Presents Adventureman 7: The Return of Adventureman
Sophie Willan: Branded
Spencer Jones: The Audition
There have been eight nominees in the past two years, and awards director Nica Burns was keen to point out the gender balance of the list, with four out of the nine nominees female.
She said: '70 years of the Fringe, 700 eligible shows: a record breaking year for comedy. An excellent long, long-list resulted in a particularly passionate and lively debate by the ten strong judging panel.
'It is unprecedented to see an almost gender-equal list with four women on the shortlist of nine, one more nomination than in 2015 and 2016, and some exciting new names for the public to discover.;
The eight nominees for the best newcomer award are:
Chris Washington: Dream Big (Within Reason)
Darren Harriott: Defiant
Ed Night: Anthem For Doomed Youth
Kwame Asante: Open Arms
Lauren Pattison: Lady Muck
Lucy Pearman: Maid of Cabbage
Natalie Palamides: LAID
Rob Kemp: The Elvis Dead
Burns called the list 'the most diverse ever'.
MORE ABOUT THE MAIN SHORTLIST
• Ahir Shah: Control, post-Brexit political comedy from a polemist who started comedy when he was just 15
• Elf Lyons: Swan. Clown-trained comedian takes on a full-scale, one-woman production of Tchaikovsky's Swan Lake
• Hannah Gadsby: Nanette. Winner of the Barry Award at the Melbourne International Comedy Festival earlier this year, Gadsby bows out of stand-up with a powerful personal story of how comedy isn't enough to tackle the big issues.
• John Robins: The Darkness of Robins. A personal break-up story about how the Radio X favourite coped with the end of his relationship with fellow comic Sara Pascoe.
• Jordan Brookes: Body of Work. An innovative hour of stand-up, very loosely inspired by the death of his grandmother. The show started its run in an inappropriate Free Fringe venue, but was picked up by the Pleasance and put into a 11pm slot
• Mae Martin: Dope. Stories of how the stand-up got in with a bad crowd in her early days on the Toronto comedy scene.
• Mat Ewins Presents Adventureman 7: The Return of Adventureman. A ridiculous spoof featuring lots of computer animation, and even programming, from a comedian so determined to remain under the radar that he made no posters or flyers for the show – yet still attracted sold-out audiences.
• Sophie Willan: Branded. A revelatory show about how she rejects the baggage that comes with the label of being a working-class Northern woman – as well as the stigma her former job as an escort carries.
• Spencer Jones: The Audition. Insane prop-based comedy from an Edinburgh favourite, who has appeared in Ben Elton's Shakespearean sitcom, Upstart Crow.
MORE ABOUT THE BEST NEWCOMER LIST
The list of eight are:
• The warm and happy stories of Wigan postman turned comedian Chris Washingto
• Ex-bouncer Darren Harriott, a 28-year-old from Birmingham with a genial but brave take on today's issues
• Ed Night, confident beyond his 21 years, tackling the big issues of his generation
• Warm-hearted 23-year-old Geordie Lauren Pattison's highly polished debut sharing her funny and poignant look at relationships
• Laid-back junior Doctor Kwame Asante, a former Chortle Student Comedy Award winner, with his gentle observations about life, racism and identity.
• Lucy Pearman's surreal and endearing first full length debut as an unmarried maid on the hunt for the perfect cabbag
• Natalie Palamides smashing eggs in a wonderfully enthralling dark comedy about a woman's relationship with her own fertil
• Blood-drenched, chainsaw-wielding Rob Kemp in his cult-in-the-making show that blends the music of Elvis with the plot of the Evil Dead Two
---
The prize money for best comedy show is £10,000 with £5,000 each for the best newcomer and the Panel Prize winner.
Winners will be named at a ceremony on Saturday lunchtime with prizes awarded by The League Of Gentlemen and 2016 winner Richard Gadd.
This year's panel is chaired by Sunday Times Culture editor Helen Hawkins and comprises Tanya Qureshi from Channel 4 Comedy, Tilusha Ghelani from Sky, Alexandra Smith from BBC Comedy, Geoff Rowe from the Leicester Comedy Festival; Mark Wareham from The Mail on Sunday; Mark Boosey from the British Comedy Guide and public panel competition winners Alex Caven, Sam Moulton and Nicholas Thompson.
Published: 23 Aug 2017
What do you think?