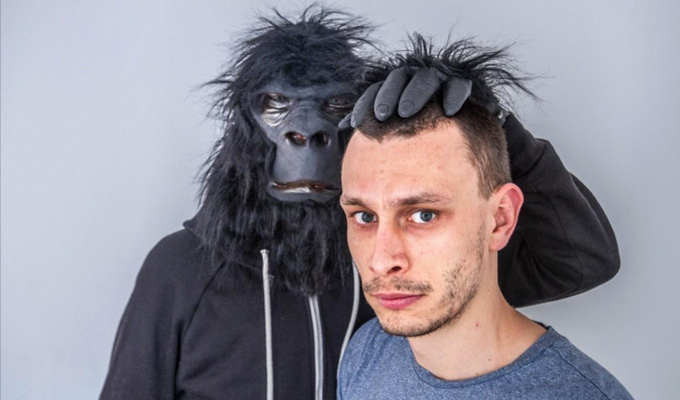 In Gadd we trust...
The best of the week's comedy on TV and radio.
Sunday August 13
BBC NEW COMEDY AWARD FINAL: Live from the Edinburgh Fringe, Mark Watson hosts the culmination of this year's search for the best in new stand-up talent, following in the footsteps of previous finalists such as Sarah Millican, Peter Kay and Joe Lycett. Meet this year's batch here.
Tuesday August 15
QUACKS: The brutal world of Victorian medicine is the setting for BBC Two's comedy series Quacks, following the progress of four young medical pioneers fighting to make a mark on the world, beat their rivals and save lives. It was an era when the operating theatre was a theatre, full of spectacle and showmanship. Quacks stars Rory Kinnear, Mathew Baynton, Tom Basden, Lydia Leonard and Rupert Everett, and you can read an interview with writer James Woods here. The whole series will be available as a box set on BBC iPlayer after the first episode has aired.
PEOPLE JUST DO NOTHING: Series 4 of People Just Do Nothing will drip on the BBC Three iPlayer channel today, with the exploits of Kurupt FM's MC Grindah, DJ Beats and Chabuddy G repeated on BBC Two on Saturday at 11.30pm.
Wednesday August 16
RICHARD GADD: MONKEY SEE MONKEY DO: This is something of a departure for Comedy Central, best known for back-to-back Friends reruns and shows like Most Ridiculous Penguins (genuine, that one). But kudos to the broadcaster for showing this intense, award-winning stand-up show as part of its  Soho Theatre Live season. Gadd takes to the stage running on a treadmill as he metaphorically flees from his inner demons and the psychological 'monkey' on his back, tackling issues of masculinity and mental health. 10pm.
I'M DYING UP HERE: If there's an authenticity to this the drama set in the 1970s Los Angeles stand-up scene, it's because it's based on the factual book of the same name by William Knoedelseder, which charted that world. And Jim Carrey, who came up through the clubs  of the era is an executive producer. Described as being about 'the inspired, damaged and complicated psyches of a fictional group of stand-ups who live in closets, eat stolen junk food, and bare their souls on stage for the hope of a shot on Johnny Carson', the show has got mixed reviews in the States, but must hold a curiosity value for stand-up fans.Sky Atlantic, 10.10pm.
THE ENTERTAINER: Or there's this drama about a comedian from a different era. Based on the John Osborne play, The Entertainer stars Laurence Olivier as a failing third-rate stage performer who tries to keep his career going  as the music-hall tradition fades into history.  Talking Pictures TV, 10pm
Friday August 18
ROBIN MORGAN: PROPOSES: Comedian Robin Morgan returned to the Glee in Cardiff, where he used to work behind the bar, to record the half-hour radio version of his 2016 Edinburgh Fringe show Free Man, about the day he proposed to his girlfriend on a New York trip in December 2014, and the build-up to it. Read our review of the live show here. BBC Radio Wales, 8.30pm, and then on iPlayer.
Published: 13 Aug 2017
What do you think?