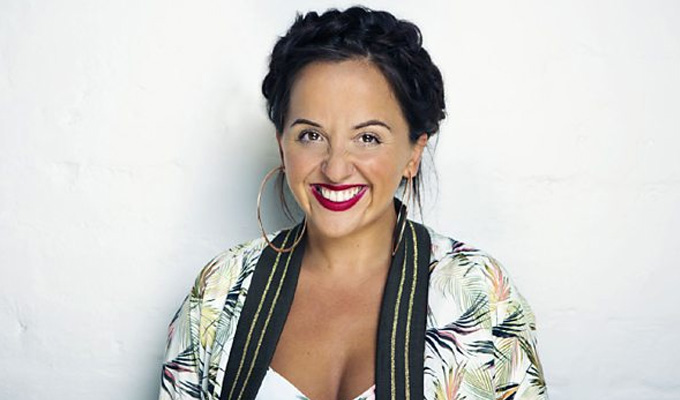 Luisa Omielan gets topical for the BBC, bitches
Luisa Omielan has landed her first BBC series – a topical show called Politics For Bitches.
It comes as the BBC announces a raft of satires. They include a new show from Tracey Ullman and the confirmation of the return of Philomena Cunk.
Omielan's show, for BBC Three, is described as 'part sexy Question Time, part documentary and part comedy gig' covering topics such as Brexit and the NHS.
The comic, famed for her What Would Beyonce Do?! live show, said: 'The world of politics is so boring, alienating and inaccessible to many. I want to try and educate myself and break down what's happening in the world to empower individuals with more information.'
BBC comedy commissioner Shane Allen also confirmed Frankie Boyle's New World Order for BBC Two, the traditional end-of-year Wipe from Charlie Brooker, and Rhys Thomas returning to BBC Four with another A Year In The Life Of A Year.
Allen said: 'This range of shows puts a contemporary spin on the decades' long, rich tradition of satire on the BBC. In a tumultuous political climate, the desire and opportunity for satire is at an all-time high.
'The fast moving social media age presents a new challenge in a fluid news landscape, so we need to be ever more up to date and reactive. This gathering of idiosyncratic comic minds is a concerted effort to create a satirical hall of mirrors to reflect upon.'
Ullman is to star in a one-off half-hour special for BBC One called Tracey Breaks The News to transmit in the aftermath of the election and featuring the return of Angela Merkel and Nicola Sturgeon. The show will also include Ullman's first impersonation of Theresa May.
It will feature a mix of famous political figures and 'everyday people', all reacting to the aftermath of the general election and the anniversary of the Brexit vote.
Ullman said: 'I'm excited the BBC has asked me to make a show at this time. We've decided to shake it up with a more topical format because things move so fast these days it's like every ten minutes I'm voting for something.
'There's never been a better time to be imitating world famous political women, and I admire and thank them all: Angela Merkel, Nicola Sturgeon, and my home girl newbie Theresa May. I can't wait to get stuck in - thanks to the BBC and my brilliant team. It really is a privilege.'
The BBC also confirmed Frankie Boyle's New World Order, co-starring Sara Pascoe and Katherine Ryan, which launches its four-part series on BBC Two on election night.
Boyle says: 'As a newly recruited shill for the military industrial complex, I look forward to distracting the bovine masses and earning my place on the Space Ark beside the frozen head of John F Kennedy.'
Also on Two, Philomena Cunk lands her own five-part series, Cunk On Britain, covering the story of Britain's battles, Medieval monarchs and the expansion of the Empire, right up through Thatcher, Britpop, the discovery of Nick Clegg and the invention of Brexit.
Diane Morgan's alter-ego – who sprang from Charlie Brooker's Wipe series, will be asking probing questions such as: were dinosaurs the first people to discover Britain? When did Britain get officially 'Great'? Where did Robin Hood buy his tights or was that bit just made up?
Cunk said: 'In 2017, Britain stands at a fork in its crossroads, so what better way to find out where we might be heading than looking behind us, into history (which apparently is a sort of "rear view mirror" for time).
'I'll be travelling the length and width of the country talking to experts and standing in front of old buildings saying things into the camera, as I try to discover what made Ancient Britain the Modern Britain it is today.'
The BBC also confirmed that Charlie Brooker's 2017 Wipe will be back at the end of the year. Brooker said: 'It seems like only yesterday we were making 2016 Wipe, but apparently it wasn't. As ever, 2017 Wipe will compile the best and worst of the year into one easily-digestible jam-packed hour. It's a tradition now. A bit like the Hootenanny, but with less singing and more sarcasm.'
Finally, Rhys Thomas will be returning to BBC Four with another special of A Year In The Life Of A Year, following the success of the mash-up and manipulated archive footage compilation at the end of 2016.
Thomas said: 'Thank you BBC Four for giving me 30 minutes of your time to ruin some of the best TV and film of 2017.'
Published: 26 May 2017
What do you think?