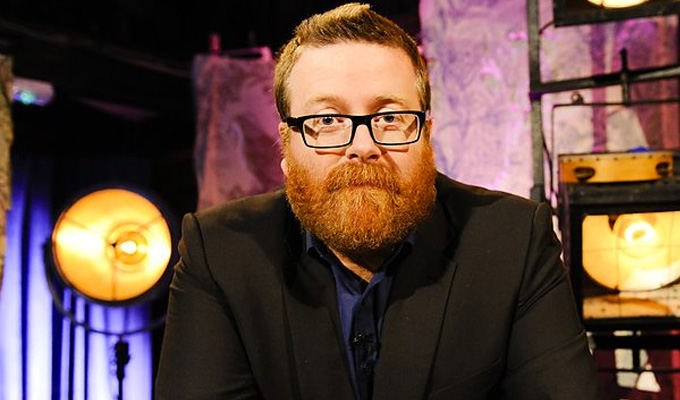 Coming soon: Frankie Boyle's New World Order
Details have emerged about Frankie Boyle's new topical TV comedy show, which is set to be called New World Order.
The show will launch on BBC Two next month and feature stand-up, review, discussion and audience interaction.
According to producers, 'each episode will see Frankie make two bold, and often outrageous, statements about the stories that have dominated the news in the past seven days'. Then experts and guest comics will 'take him to task over his controversial claims'.
The show follows the success of his iPlayer 'Autopsy' specials about the Scottish referendum, the last general election and the US presidential election, which also featured Sara Pascoe and Katherine Ryan.
BBC Two controller Patrick Holland last month revealed that he had given Boyle a series, saying: 'If we're going to be making the channel feel more contemporary and more relevant, we want to be looking at the issues of the day and Frankie is one of those voices that does that. He's an extraordinarily strong voice and a very passionate voice.'
Although Boyle has previously landed the BBC in hot water with his jokes, Holland said: 'Frankie knows that he's going to be working on the BBC and… there are BBC guidelines.' The tabloid-fuelled outrages have not made him a pariah at the BBC and he has appeared on Have I Got News For You and Radio 4's News Quiz and The Unbelievable Truth without incident.
Frankie Boyle's New World Order will be recorded in front of an audience on Wednesday nights starting on June 7 – the day before the general election.
So far tickets have been made available for four episodes. Click here to apply.
Published: 17 May 2017
What do you think?