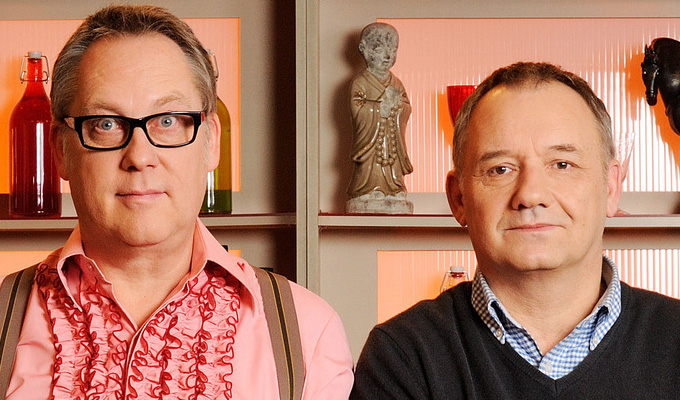 Vic and Bob bring back Big Night Out
Vic Reeves and Bob Mortimer are bringing their Big Night Out stage show back to BBC Two for a one-off special.
The hugely influential show was originally broadcast by Channel 4 in 1990, based on the stage shows the pair used to perform at Goldsmiths Tavern in South London.
Running for half an hour, the new one-off will feature new characters as well as old favourites. There will also be sketches shot on location – whereas the original was all studio-based – as well as songs, skits and stunts performed in front of a live audience.
The BBC promises 'some surprise cameo appearances' and that a 'well-known television show will get the Vic & Bob makeover'.
In a statement, Vic & Bob said: 'This is the show we wanted to perform back in the 1980s. Now the time is right. We will be increasing our respective heights in order to perform some of the more intricate and challenging moments.'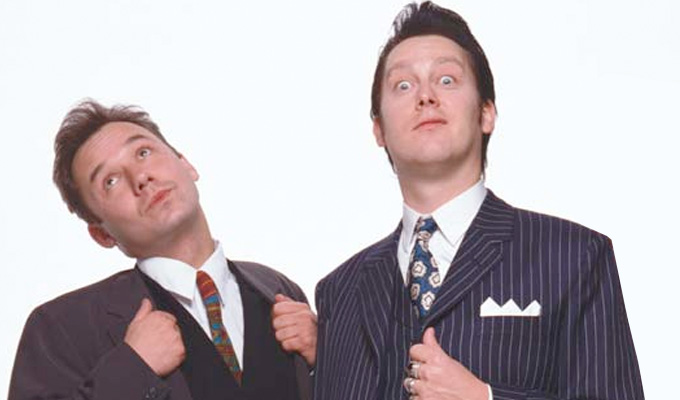 In their Channel 4 Big Night Out days
Shane Allen, the BBC's controller of comedy commissioning, added: 'In this special, Vic and Bob go back to their live stage show roots to mark three decades as the most pioneering, surreal and unique pairing in British comedy.
'With a mix of old and new characters, recorded in an intimate setting they give a modern spin on that rich tradition of English eccentricity that stretches back to the music hall, through Spike Milligan and The Pythons in creating characters that delight or baffle depending on who you are.'
Vic and Bob revived many of their Big Night Out creations, including The Man With The Stick, Judge Nutmeg, and The Stotts for their 2015-2016 live tour Poignant Moments, their first in more than 20 years. (Reviewed here)
The revival of Big Night Out will be the pair's first BBC show since their sitcom House Of Fools was axed in 2015; although they appeared on the Comic Relief telethon this year – prompting complaints about Reeves's prosthetic penis poking out of his outfit while the pair interviewed presenter Susannah Reid.
Big Night Out will be produced by their long-term collaborator Lisa Clark, who recently oversaw the relaunch of Top Gear, and will be made by BBC Studios. The executive producer is Chris Sussman and the studio director is Mat Whitecross.
A transmission date has not yet been announced.
Published: 18 May 2017
What do you think?