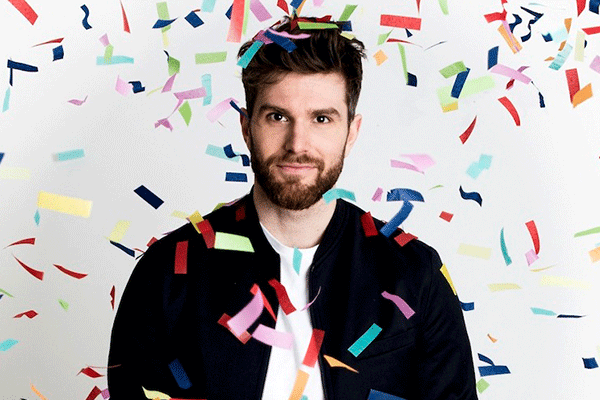 V Funny
The V Festival has announced its comedy line-up
Joel Dommett, Lee Nelson, Seann Walsh and Joe Lycett are the big names at the event, which takes place in Chelmsford, Essex and Weston Park, Staffordshire, on August 19 and 20.
Nelson – known for his stunts irritating Donald Trump and Sepp Blatter – said: 'Very happy to be playing V Festival this year. It's a genuine honour to be able to help raise some extra money for Sir Richard Branson.'
While Dommett referred to one of the musical headliners when he said: 'I'm super excited to be doing comedy at V festival. My favourite word starts with V: Vestibule. I'm beyond excited to see Stormzy. My mum recently called him "Grimezy" and I laughed for 20 minutes. I hope to meet him and relay this story.'
And Lycett said: 'I am very much looking forward to performing at V Festival which I've heard can be raucous and rambunctious, so my plan is to perform a short comedy set followed by getting violently drunk on ice cold beers with the lads before downing some shots with the lads and then being removed from the site by armed police with the lads lads lads. Lads.'
The other names in the comedy tent are: Jen Brister, Damo Clark, Inel Tomlinson, Simon King, Scott Bennett, Kate Lucas, John Fothergill, Dave Twentyman The Rubberbandits, Dave Hill, Laura Lexx, Rob Deering, Matt Reed, Steve Shanyaski, Allyson June Smith, Marlon Davis, Michael Fabbri and Andy Robinson.
The tent is presented by the Glee comedy clubs and hosted by Mark Olver and Kevin McCarthy.
Published: 20 Apr 2017
What do you think?