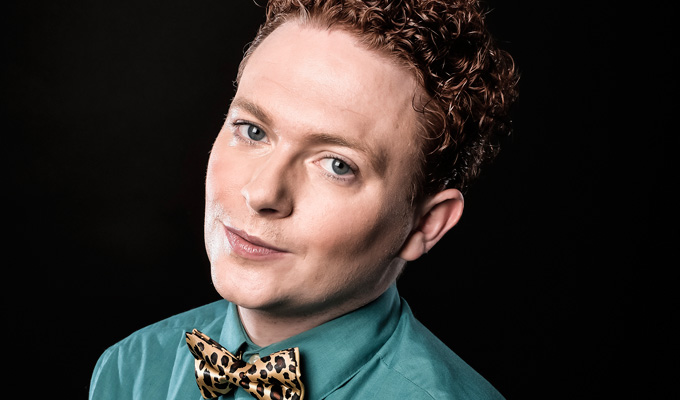 Where are the gay male comics on TV?
Gay men are vastly under-represented on panel shows – with no representative on Mock The Week for almost nine years.
Comedian Stephen Bailey has complained that the show's booking policy projects the idea that 'comedy is seen as a straight, white, man's game'
Mock The Week has regularly featured lesbian comedian Zoe Lyons and occasionally Susan Calman – but the last gay man on the show was Stephen K Amos in July 2008.
In an article for the i newspaper, Bailey, who is gay himself, said there was always outrage when any panel show was 'six white men', but said it 'comes primarily from the lack of a woman'.
He also complained that a TV show he does warm-up for – believed to be another Dara O Briain show, Go 8-Bit – has not had a gay guest in its first two series. He wrote: 'I realise it could bring about the end of television, but imagine if one week they had a woman and a gay man as guests.'
'Like every other minority on the comedy circuit, I often feel that my voice is under-represented,' he said – adding that a more diverse booking policy could even cut homophobic attacks. Citing one assault, he said: 'Perhaps those two thugs in Peckham might come to see two men holding hands in a pub as fine if they're used to seeing gay men on TV.'
Other panel shows have better track records. ITV2's Safe Word has David Morgan as a team captain (on which Morgan made his panel show debut last year) and Matt Lucas appeared twice in the last series of QI.
But BBC One's seems to be the worst offender. Have I Got News For You has not had a gay male comedian since 2008 and Would I Lie To You since 2010, in both times it was Julian Clary.
Bailey, who has been a comic for six years, said he was always pigeonholed by the comedy industry, saying he wanted to talk about a range of topics 'without it being deemed by TV producers and reviewers as me being camp or flamboyant… I want to talk about my minority and be taken seriously, too. '
He admitted that 'the great Alan Carr and Graham Norton rule the airwaves and gave the likes of me a voice', but added: 'Who is carrying that baton forward?'
Published: 6 Apr 2017
What do you think?