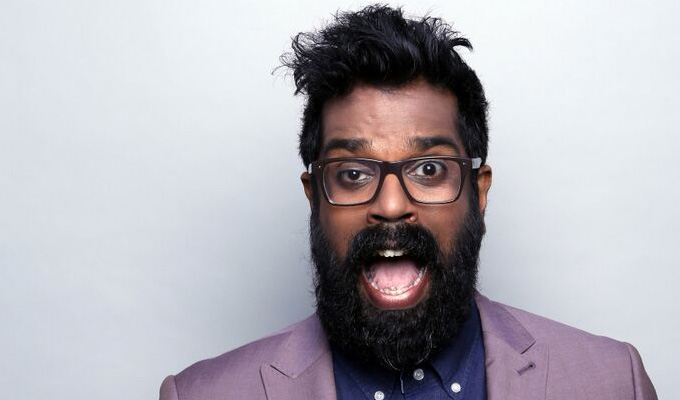 Romesh Ranganathan: I almost quit comedy
Romesh Ranganathan has revealed that was on the verge of quitting comedy until he won a stand-up competition.
The comic had just been hit by the death of his father and was struggling to pay the family bills when he took part in the Leicester Mercury Comedian Of The Year contest in 2013.
Returning to the city for an on-stage interview at its comedy festival today, Ranganathan said that in retrospect the competiton final was a 'turning point' that convinced him that comedy could be a viable career.
He also revealed that:
• He is planning a third series of his Asian Provocateur travelogue, following his excursions to Sri Lanka and America, though gave no more details
• He tends to spurn 'Asian circuit' gigs because he doesn't want to be pigeonholed
• His forthcoming book is supposed to be a series of 'intertwined' stories from his life – but he hasn't started writing it yet
• His first gig was at the age of eight, reciting gags from a joke-book at a Pontin's holiday camp, which he did in a Sri Lankan accent 'because even then I knew I needed an angle'.
He took up comedy properly in 2010, blagging his way on to a bill at London's Comedy Cafe by lying that he had done around 20 gigs beforehand. 
'I wrote my set on the train on the way to the gig,' he said. 'I died on my arse. I didn't realise how difficult it was to write stand-up.' And he again returned to the Sri Lankan accent for his set, before dropping into his normal voice a couple of minutes in. 'I basically ripped off Omid Djalili,' he concedes.
Ranganathan was working in a Crawley school at the time, which led to some uncomfortable moments as he began hosting a regular gig at his father's pub for the stage time. 'I was head of sixth form, and the students found out about it,' he said. 'And they were old enough to go into the pub. It's hard to maintain a level of authority at school when the kids have seen you die on your arse on stage.'
His time at the school also led to what he admitted was one of his most shameful moments, when he went to the 2011 Edinburgh Fringe as part of the Big Value line-up, despite having commitments at work.
'The A-level and GCSE results came out when we were up there and I was supposed to be in school when they came out,' he said, speaking about the incident for he first time. He'd told his bosses he'd only be at Edinburgh for the first couple of weeks before returning, but was intent on staying there.
'My wife was pregnant at the time,' he said. 'So I said there were complications and we had to stay in Edinburgh. I'm not proud of that, it's one of the worst things I've done.'
But he told interviewer Geoff Rowe, the director to the Leicester Comedy Festival, that this wife Leesa was complicit in the deceit.
On his return to school, Ranganathan was summoned to see the head of human resources, who confronted him with a folder full of reviews, interviews and other press cuttings from his time at the Fringe. 'Two thing went through my mind,' he said. '1) this is hugely embarrassing and 2) I'd quite like that folder.'
After that, he agreed to stand down from his additional duties and become solely maths teacher, although he quit teaching altogether a few months later.
He said his mum, who co-stars in Asian Provocateur, and his dad were both very supportive of his new career, adding. 'Dad was maybe too supportive. He would want to know why I wasn't doing Live At The Apollo, and I was like "mate, I've only done four gigs."'
So when his father suddenly died a few months after Ranganathan became a full-time comedian,  and just before the Leicester Mercury competition, he was devastated. 'I'm sad he never got to see it really work out for me,' he said.
 'He died of a heart attack out of the blue. It shook us as a family really hard.'
It was at this moment that he seriously considered quitting comedy. 'I couldn't focus on getting gigs,' he said. 'I had a young family and I was trying to sort out my father's estate along with my brother, and look after his pub.'
His lack of focus in securing comedy work meant he couldn't pay the bills, and he lost his car when it was towed away when he couldn't afford the road tax. And because he was struggling to provide for his family, he thought it was probably time to quit stand-up.
'Much as I love comedy, it's not a valiant thing,' he said. 'It's a vanity project. We don't need more comedians, we need fewer.
'So I was at rock bottom when I came to do the Leicester Mercury gig. I thought I'd try to have a good gig, but that's as far as it went. It was a great surprise that I won. If I hadn't done that final, I'd have definitely given up. It couldn't have been more of a turning point.'
As he subsequently rose stratospherically through the ranks of stand-up, Ranganathan said he tended to avoid the Asian comedy circuit because 'I just wanted to be the best comedian I could be.  Asian comedy is not a genre. I'm not doing Asian comedy, I'm just an Asian man who happens to be doing comedy.'
And although he talks about race in his stand-up – 'if I think it's a great joke' –  he says comedians from ethnic backgrounds all face a 'damned if you do, damned if you don't' situation. Either they are criticised for 'banging on' about race if they mention it, or if they don't it's questioned why.
Ranganathan was named the 'hardest working' comedian of 2016, but conceded the honour was 'not real'. 'It's just based on distance travelled on tour,' he said modestly. 'That means it was just badly planned.
'Also it means no one will travel to see me. Michael McIntyre can do ten nights in the same place and people will come and see him. No one will come and see me unless I'm playing right next door. I'm the twat who has to go to every town.'
The 38-year-old – who is currently developing his own sitcom – also said that before the BBC commissioned Asian Provocateur they wanted to see a taster tape. 'But we couldn't go to Sri Lanka on a whim,' he confessed. 'So we went to Tooting.'
Published: 12 Feb 2017
What do you think?