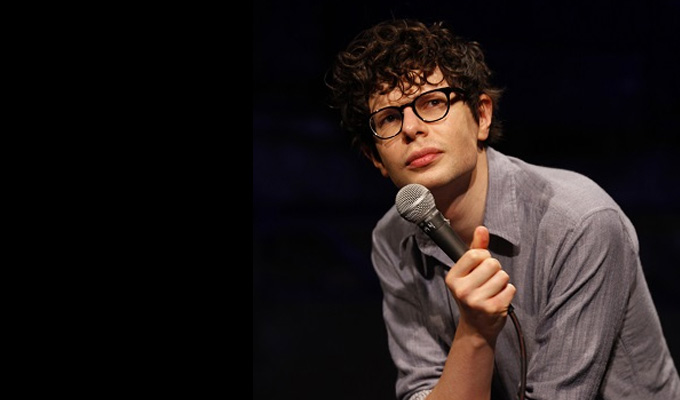 Cast announced for Simon Amstell's Carnage
The cast has been announced for Simon Amstell's first feature film Carnage: Swallowing The Past.
His directorial debut, which will launch on iPlayer this spring, is set in a utopian 2067 where everyone is vegan.
Amstell will also narrate the film, which combines archive footage with original drama as it looks back at a time when human beings ate other animals. In the future, this will be considered an unimaginable bloodbath of unnecessary suffering, according to the film.
It stars Martin Freeman, Joanna Lumley, Dame Eileen Atkins, Lindsay Duncan, Alex Lawther, Gemma Jones, Linda Basset, Marwan Rizwan and John Macmillan. Playing themselves are Kirsty Wark, grime MC JME, Lorraine Kelly and Vanessa Feltz
Carnage – originally revealed by Chortle in November – follows previous BBC iPlayer film premieres such as Fear Itself, Adam Curtis's polemic HyperNormalisation and The Rack Pack.
Amstell, a vegan himself, said: 'I have written and directed a film about veganism. I'm sorry.'
The film was commissioned last year by Victoria Jaye, the head of content for BBC iPlayer, who said: 'In a culture obsessed by what's on our plates, Carnage imaginatively challenges our attitude towards eating meat, fish and cheese triangles. Prepare to never look at your dinner the same way again.'
Last year, Amstell said he found directing as exciting as performing, saying:  'It's difficult to find something that has the same level of excitement and danger as doing live stand-up. Directing films is so all-encompassing, you're so in the moment.'
He previously shot a music video for Shock Machine, aka former Klaxons frontman James Righton.
Carnage is being made by BBC Studios, the Corporation's main production arm, with arts editor Janet Lee as executive producer and  Daniel O'Connor as producer.
Published: 1 Feb 2017