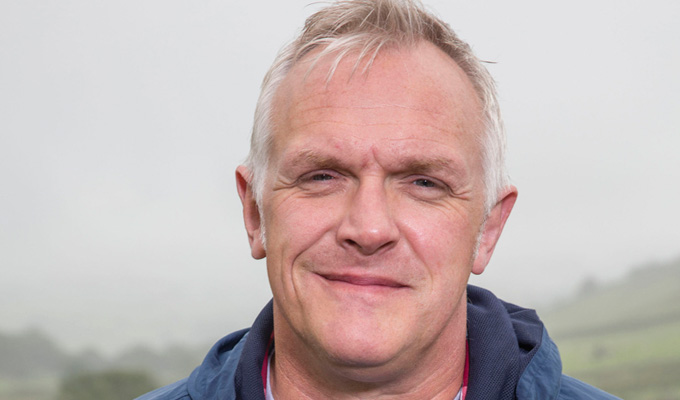 Greg Davies is descended from royalty
Greg Davies has discovered that he is descended from royalty.
The comedian traced his family tree back to Owain Gwynedd, the first Prince of Wales, when he took part in BBC One's Who Do You Think You Are?
'I knew I had royal blood,' Davies exclaimed when he learned the news, with his enthusiasm undimmed even when he was told that 12th Century king of North Wales had 19 children. 'I'm sure he had a lot of descendants but all I'm hearing was that I'm related to the first Prince Of Wales,' he said.
But when he discovers almost everyone in the town of Criccieth claims to be a descendant of Owain the Great, his regal dreams are crushed.
Man Down and Taskmaster star Davies discovered some more poignant stories as he traced his genealogy through his father's side.
The comedian discovered that his grandmother was the illegitimate child of his great grandfather, William Owen. and his great grandmother Elizabeth.'He's been shockingly irresponsible.' Davies said when he heard the news. 'That would have been really scandalous.'
William, a butcher, had a chequered life, being convicted of being drunk in charge of a horse and again landing in court for failing to pay maintenance for his children, spending a fortnight in jail.
He fled Caernarvon to escape the scandal, and set up a new home with his second family amid the fast-expanding mining communities in South Wales.
'I can't shake the idea that William may have been taking his family away from the chaos he's caused in North Wales,' Davies said. 'If my great grandfather thought he could evade his responsibilities, I'm here to tell him, 105 years on, I'm coming for him.'
Davies even manages to meet William's last daughter Merionwen, who was born in 1928, who recalls her mother expressing the misery of her life by saying: ''If you were to have the life I'd have, I'd bury you.'
The comedian said he didn't feel much of a connection with his feckless great grandfather, but found more in common with William's father, Evan.
Though apparently a stern, god-fearing man, a description of him from the time made reference to his 'mischievous comic talent', to Davies's delight.
Evan drowned in a tragic accident, when his horse became spooked on a bridge, and started moving backwards until he fell into the river. 'Well, I wasn't expecting that.' Davies says when reading the story in an old newspaper. 'It's so strange when you get involved in someone's life like this when they are long dead.'
Davies's own father, whose pranks inspired so much of his stand-up, died in 2015, and always mentioned a 'family secret'.
Although they lived in Shropshire, Davies Sr was so proud of his Welsh heritage and even insisted on driving his wife Pauline across the border when she was pregnant with Greg to make sure he was born in Wales and so be eligible to play for the national rugby team.
Who Do You Think You Are? airs on BBC One at 8pm next Wednesday.
Published: 25 Jan 2017
Recent News
What do you think?