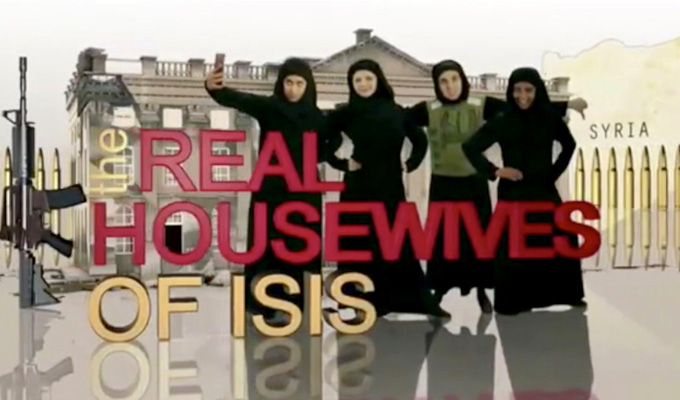 Ofcom will not investigate Real Housewives Of ISIS
Ofcom has decided not to launch an investigation into the satirical BBC sketch that featured The Real Housewives Of ISIS.
Newspapers kicked up a stink about comedy show Revolting, citing tweets to report that the show had 'sparked fury' and been 'blasted' for trivialising the plight of victims of the terror group.
In the end, 55 viewers complained to the regulator, which today announced it had assessed the complaints, but decided not to take the matter further.
The show, broadcast on January 3, 'did not raise issues warranting investigation,' the watchdog said, following the complaints that it 'breached 'generally accepted standards'
The skit showed jihadi brides taking selfies and showing off suicide bomb vests. One woman wearing a hijab says: "It's only three days until the beheading, and I've got no idea what I'm gonna wear.'
Then two of the wives are seen wearing the same suicide vest. 'What a complete bitch, she knew I had that jacket, [she] copies everything,' complains one.
Revolting's creators, Heydon Prowse and Jolyon Rubinstein, who previously made The Revolution Will Be Televised, insisted the target of the sketch was online grooming, not the victims.
'It's about people who are vulnerable to these kind of approaches,' Rubenstien told the i newspaper. And Prowse added: 'It's important not to pull your punches in satire. You have to be fearless or it undermines your credibility. You can't go after David Cameron for five years like we did and not go after Islamic State.'
Here is the sketch.
Published: 23 Jan 2017
What do you think?