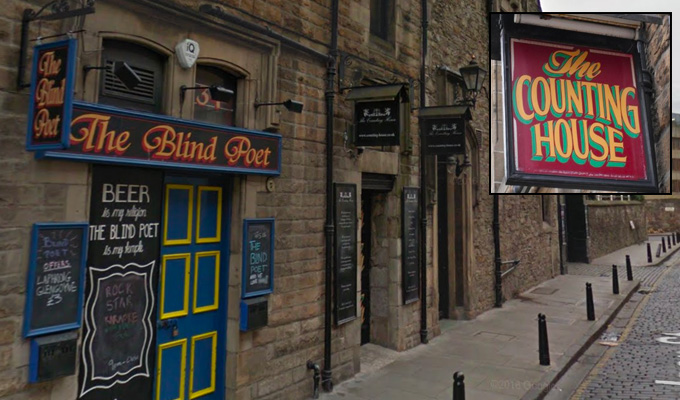 Free Festival wins back the Counting House
Free shows are to return to Edinburgh Fringe venue The Counting House in 2017.
The Gilded Balloon 'poached' the pub for the last Fringe, after nine years of staging free shows. But for 2017, the four spaces within the building will revert to being part of the Laughing Horse Free Festival.
Also, the ground floor of the Pear Tree pub, part of the same building, is being refurbished to take over what had previously been the Blind Poet Bar, giving a further performance space.
The Gilded Balloon faced criticism when it took over the Counting House for the 2016 Fringe, with John Fleming, who organised the Malcolm Hardee Comedy Awards in the venue, calling it a 'cynical and amoral move'.
However, Gilded Balloon artistic director Karen Koren pointed out that she was the first to run shows in the venue in the 1990s, around the time she became a full-time comedy promoter.
She had outlined plans for the venue to be a year-round comedy venue, but these have not materialised.
Free Festival performers are not charged for the venues (aside from a £95 programme fee), and audiences are asked to give donations, rather than pay a ticket price up front.
Comedians who have played the Counting House under this model include Joel Dommett, Luisa Omielan, Richard Gadd and Austentatious.
Free Festival director Alex Petty said regaining the venue was 'fantastic news for us and Fringe performers' and vowed that 'in 2017 the Counting House will be better than ever'.
His outfit plans to programme at least 23 venues and 39 performance spaces in 2017, including new rooms at The Golf Tavern, Cuckoo's Nest and Joker & Thief.
Published: 31 Dec 2016
What do you think?