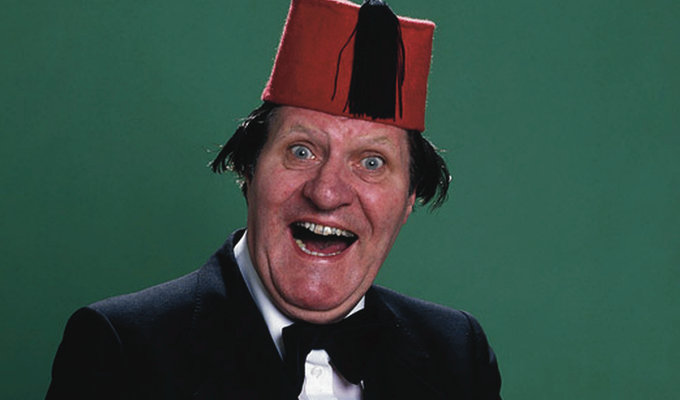 Fez up: Museum finally lands Tommy Cooper's hat
One of Tommy Cooper's fezzes is to go on display at the Victoria and Albert Museum.
Earlier this year the London museum acquired a vast archive of the comedian's memorabilia, including his 'gag file', but not a single one of his trademark hats.
But after an appeal, an advertising executive has come forward with one of the fezzes, which will now take its place in a new exhibition to Cooper opening tomorrow alongside posters, handwritten jokes and other artefacts.
Legend has it that the comedy magician was performing in Cairo during the Second World War when he mislaid his army-issue helmet and took a fez from a nearby waiter to wear for the show. The hat looked comically small on Cooper's 6ft 3in frame and became his trademark.
The fez has been donated to the V&A by the former advertising executive, Hans van Rijs. Cooper gave Hans the fez when they met in 1984 to discuss a Dutch TV commercial that he was to star in for Bassett's wine gums. The advertisement was never made, as Cooper died suddenly a few days after the meeting.
Van Rijs, said: 'I travelled to London to meet Mr Cooper in the first week of April 1984 to discuss his script. I arrived at his house around 10.30am and was offered something to drink. We finalised the script and he gave me his fez to take back home with me, so that the special effects team could begin animating it for the advert. He died a few days after we met, so sadly that advert was never made.'
Cooper died after collapsing during a live TV broadcast from Her Majesty's Theatre in April that year.
V&A curator Simon Sladen said: 'It is wonderful news that we now have an authentic fez in addition to the Tommy Cooper Collection at the V&A. Cooper's fez is an icon of 20th century British comedy. It's thrilling that we can display it alongside his hand-written gags and unique examples of his comedy props to give visitors a fascinating insight into one the best-loved entertainers of the 20th century.'
<
The museum already has archives from from Ronnie Barker, Tony Hancock, Dame Edna Everage and Morecambe and Wise as well as the records from London's Windmill Theatre, the scene of early stage appearances for most post-war entertainers.
Cooper's daughter Vicky said: 'My dad would be very proud knowing he was now sitting alongside the likes of Ronnie Barker's archive and costumes worn by Morecambe and Wise and Stan Laurel.'
Published: 5 Dec 2016
What do you think?