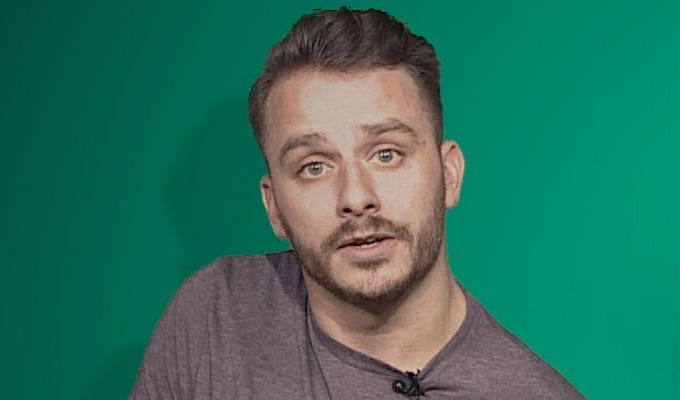 Dapper Laughs dropped from tech conference
If you know one thing about Dapper Laughs, it's that he got in hot water for sexist jokes that were accused of promoting 'rape culture'.
But apparently organisers of a technology conference weren't aware of his past when they booked him to appear at their event.
Today the comic, real name Daniel O'Reilly, was dropped from the Business Rocks session in Manchester next year, after promoters were told of the storm surrounding his controversial comment.
Business Insider magazine had to tell the organisers that O'Reilly was filmed telling a female audience member at one of his shows that she was 'gagging for a rape'. Although he contested that he was repeating what she had said to him, allegations of misogyny continued to swirl around the comedian.
James Cook, the magazine's technology editor tweeted to Business Rocks: 'It's hard enough to fix the gender balance in tech without booking someone who said a woman at a show was "gagging for a rape".'
In response, Business Rocks was initially defiant about booking O'Reilly for their Snapchat session, tweeting back 'we invite rebellious and disruptive speakers to our line-up'.
But later organiser Jonny Cadden had a change of mind and said: 'As soon as the point was raised that the person had spoken in such a way about women, he was immediately removed from our lineup. Business Rocks and its community is totally committed to promoting, empowering and championing women in tech. This behaviour is absolutely against everything we as a community stand for.'
O'Reilly complained on Twitter that Cook had got him 'pulled from this event over two-year-old bad press' and referred to himself as 'the largest Snapchat influencer.
Chortle has reached out to Business Rocks for further comment.
O'Reilly has just finished filming comedy horror film Fanged Up, alongside Steven Berkoff, Lauren Socha, who won a Bafta for her role of Kelly in Misfits, and Danielle Harold, who formerly played Lola Pearce from Eastenders.
Published: 2 Dec 2016
What do you think?