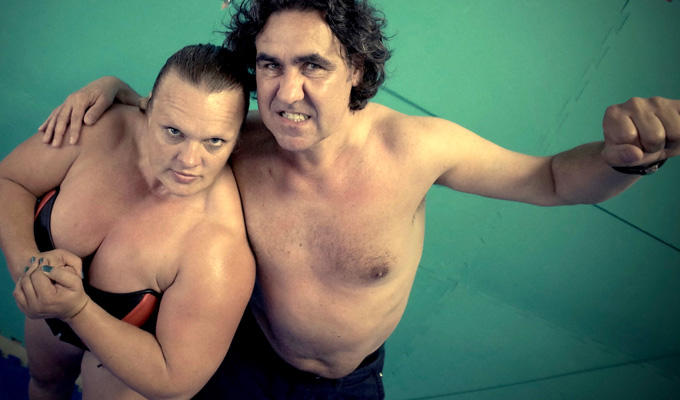 Sky confirms new Micky Flanagan series
Sky 1 has confirmed Micky Flanagan's new travelogue series Detours.
As Chortle reported in July, the six-part documentary will exploring 'big themes' such as the monarchy, class, gender relations and mid-life crises.
It follows his 2014 series, Micky Flanagan's Detour de France, based around his attempts to cycle round the country.
The comedian said: 'Two years ago I was asked by [production company] 7 Wonder and Sky to get back on my bike and make a TV show, I told them to f**k off and bought a dog. 
'But then I got thinking about serious stuff, the kind of stuff Adam Curtis or Huw Edwards would make a show about – and that's what this series was meant to be, a series that would make people say "Aristotle, Sophocles… Flanagan". 
'Somewhere along the way however I ended up getting spanked by a dominatrix in Slough and dancing with gay disco terrorists in LA. So I guess this is my way of saying if you want a comprehensive, fair or balanced point of view, if you're looking for the truth - watch Jeremy Kyle. But if you want to see a middle aged man dressed in short shorts plastering a wall with Eddie The Eagle – you know where to come.'
For the series – which is due to be aired next year – Flanagan has also asked Germans their opinion on Brexit, visited the male beauty pageant Mr World in Southport, and hosted a 'British tea party' to investigate patriotism. 
A source at 7 Wonder told Chortle:  'He's not on his bike and I think he's quite glad about that to be honest. It's more of a traditional documentary, taking the big themes and speaking to people who are relevant to them.'
The company's executive director, Mike Reilly, added: "We are delighted to be teamed up with Sky and Micky once again. After working with Micky on his wine-fuelled, butter-eating tour of France I didn't think our crew's health could withstand another shoot– but I am delighted to report that we all survived principle photography and that Micky is funnier and healthier than ever. 
'It's always a pleasure working with Micky, he has one of the sharpest minds in comedy and always surprises and delights his audience in equal measure.'
Flanagan has recently started working up material for his first stand-up tour since 2013.
Here's the trailer for the original series:
Published: 11 Nov 2016
What do you think?