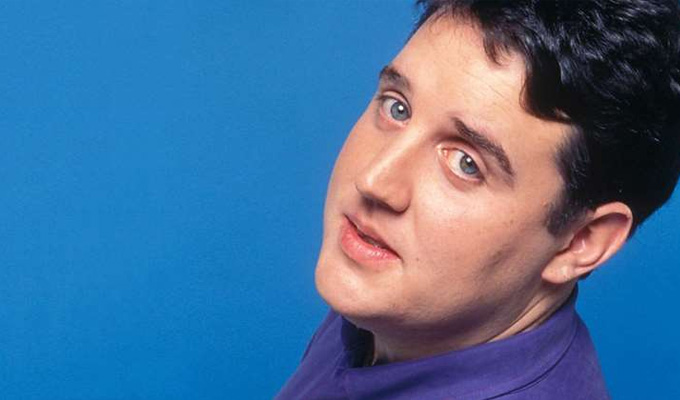 Peter Kay, before Phoenix Nights
This week's best comedy shows on demand.
Ready, Steady, Sink!
Before finding fame in Phoenix Nights, Peter Kay starred in this Radio 2 comedy pilot set on the ship broadcasting pirate Radio Splash. Also featuring  Mark Little and Julian Rhind-Tutt,  it was originally aired in January 2000, but is back on iPlayer thanks to a Radio 4 Extra repeat. The show was written by Jeremy Pascall, a former NME journalist and Capital Radio producer... but you'll have to be the judge as to whether that made the show any more authentic. Listen here.
The Outcast Comic
The documentary about how Andrew Lawrence 'became one of Britain's most hated comedians overnight' according to the blurb. Or 'got into a Facebook spat' if you prefer. Either way, the film does raise some issues about the liberal consensus in comedy. Featuring Reginald D Hunter, Shappi Khorsandi and Al Murray, the film can now be seen by subscribers to Now TV. And our full review of the documentary is here.
Friends: The One Where Chandler Died
Well, this is strange and bleak… and quite apt for Halloween. One Friends fan has mashed up bits from various episodes to create an unsettling storyline in which Chandler dies, then haunts his former pals. And it's not a quick sketch, but a 16-minute episode, not that much shorter than the real thing:
Matt Berry Does: Ghosts
Another Halloween one, this short was part of a series the Toast Of London star recorded for the BBC last year. Watch here.
Dead Set
Our final selection for Halloween is Charlie Brooker's bloody satire, which was the precursor to his Black Mirror series. In this five-parter available on All4, zombies are rampaging throughout Britain… and eventually get to the Big Brother house. Watch
Jon Plowman: Making TV comedy
Here's one for those who like to know about the nuts and bolts of comedy.
Jon Plowman
has produced some of the best and most-successful sitcoms the BBC has ever aired, including The Office, Vicar of Dibley, Absolutely Fabulous, League of Gentleman, Little Britain and Psychoville  to name but a few.  In
this podcast
for the BBC Academy, he offers an insight into his work. 'A lot of people think scripts are about jokes,' he says. 'I think they're about characters.'
Published: 29 Oct 2016
What do you think?