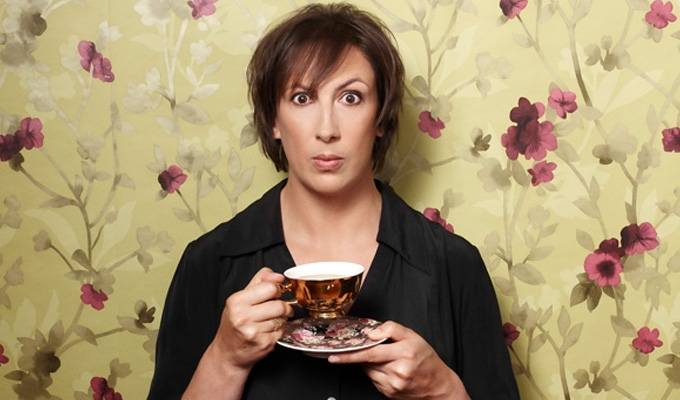 'A Miranda for the Snapchat generation'
Miranda Hart is developing a children's comedy drama about a teenage agony aunt.
Described as 'Miranda for the Snapchat generation', Frankie focuses on a 'funny, warm, upbeat, compassionate and clumsy' 14-year-old who dispenses advice to teenagers via her vlog Frankie Speaking.
Hart created the show with Stella writer and actor Robert Evans and producer Jo Sargent for King Bert Productions, the production company that Hart and Sargent own with David Walliams.
Frankie is described as naturally funny, upbeat and motivated, the kind of girl who wants to help everyone and change the world.
A taster mini-episode is due to be shot this month to present to broadcasters. Casting is undisclosed, and it is not known whether Hart will make a cameo. 
But the other main teenage roles include Sid, a free-spirited artist who is Frankie's best friend, and Ollie, a quirky French guy who inadvertently makes life hard for her.
Hart is no stranger to acting the agony aunt.  Her 2012 memoir, Is It Just Me?, was written as advice to her younger self, and went on to sell more than 500,000 copies. And she has spoken of how other tall women write to her, empathising with her clumsiness.
And of her own teenage days at Downe House, an all-girls boarding school in Berkshire, the comedian has said 'I wasn't one of the cool gang. I wasn't smoking or drinking cocktails, I was throwing water balloons at the staff.'
Hart is appearing at the London Palladium tomorrow to talk about her new book, Peggy & Me, about her relationship with her shih tzu–bichon frise cross.
She recently pulled out of hosting the Royal Variety Performance in December, with a spokesperson citing work commitments – the same reason given for her not returning to Call The Midwife, as originally planned.
- by Jay Richardson 
Published: 6 Oct 2016
What do you think?