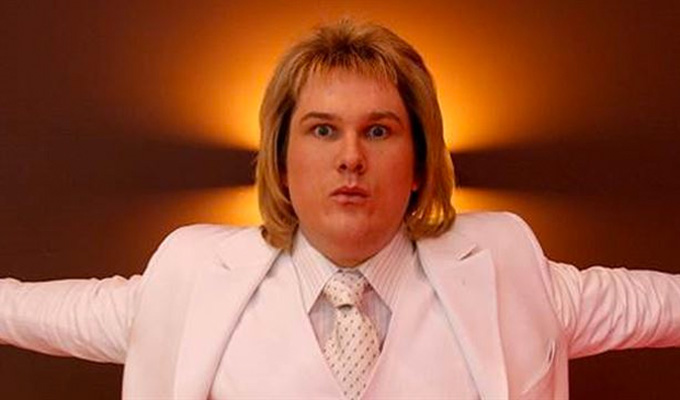 Watch Shirley Ghostman invade Derek Acorah's stage
Shirley Ghostman creator Marc Wootton has released video of the moment he stormed the stage of a Derek Acorah show.
The comedian was interviewed by police after disrupting the show this time last year and challenging him to a 'psychic showdown'.
Wootton was tackled tackled by security after interrupting Acorah's performance at the King's Theatre in Portsmouth.
The new footage shows him being pinned to the floor as the largely grey-haired crowd chant: 'Out, out!' One voice is heard to say: 'Get out, you're not clever.'
It then shows Wootton being taken to a police van outside when he says to one officer: 'I feel your pain, I feel your shame, but you're not to blame. You deserved that holiday. How were you supposed to know dogs can't feed themselves?'
At the time, the comedian's publicist said the police 'interviewed Shirley and then drove a few miles away from the venue before dropping him off.'
And Acorah posted on Facebook: 'Such a pity that there are idiots out there who try to spoil things for others. The police dealt with the matter perfectly and we were able to continue on as though nothing had happened.'
After the incident, Wootton told Chortle, maintaining the character of Ghostman: 'Derek has been psychically taunting me for years. Ever since he threatened to sue over something I said about him in my show High Spirits. He waits until I'm relaxing and getting a bit tipsy and then telepathically projects challenges into my head. It was about time I did something about it. But he wasn't so brave when I showed up. He claimed he knew nothing about it.'
The footage has been released to promote Ghostman's Spooktacular On Ice shows, a mini-tour which has been delayed for more than a year, to the chagrin of many of his fans who were left in the dark for months on end about what to do with their tickets.
Now the show - not on ice - is to play Bush Hall in Shepherds Bush, West London, from October 22 to 26; and Manchester Monastery on the 28th and 29th.
Published: 30 Sep 2016
What do you think?