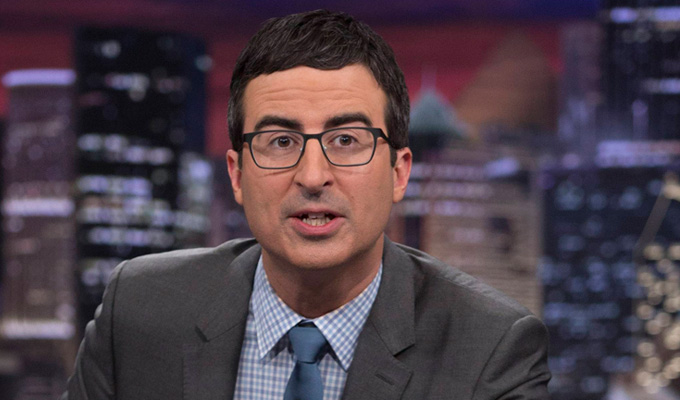 Double Emmy for John Oliver
John Oliver came away with two Emmy awards last night.
His satirical HBO series Last Week Tonight won best variety talk series, beating James Corden's Late Late Show, as well as the award for outstanding writing for a variety series.
Oliver said the win was 'pretty weird. Because I'm British, I don't anticipate success at any point'.
And on the podium, writer Jeff Maurer said: 'We wrote a speech, but we're Last Week Tonight, so it's 20 minutes long and has the F-word in it 52 times,'
Backstage Oliver also joked that Beyonce's absence from the ceremony had tarnished the occasion.
'I saw the seating chart, and I was supposed to be sitting two rows behind her. All I have been thinking about for the last 48 hours is that I will be looking at Beyoncé's head for four hours. But she hasn't turned up.'
More sincerely, he said of the show: 'We work really hard and it can be a torturous process. Our staff is really tenacious in researching, working on things as hard as they possibly can. When it goes well it is really satisfying. And when we feel like we haven't done it as well as we could, it's awful. That might have been too honest a revelation.'
Answering another question, he said: 'I systematically failed to be a successful comedian in England. I failed at every job I did in England and managed to stumble my way into this. Nobody in Britain knows who I am. They are watching this now going, "What the fuck is wrong with America?"'
Here's Oliver's backstage interview:
In other categories, Veep won the outstanding comedy series award for the second year in a row, while its star Julia Louis-Dreyfus won outstanding lead comedy actress for the fifth time.
She said: 'I think that Veep has torn down the wall between comedy and politics. Our show started out as political satire but now feels like a sobering documentary.'
The award was presented by Larry David, the first time he had handed out an Emmy:
The outstanding comedy actor gong went to Jeffrey Tambor for his role as transgender Maura Pfefferman in Transparent for the second year.
He called on Hollywood to offer more opportunities to the trans community, saying: ' I would not be unhappy were I the last cisgender male to play a transgender female on television. We have work to do.'
Published: 19 Sep 2016
What do you think?