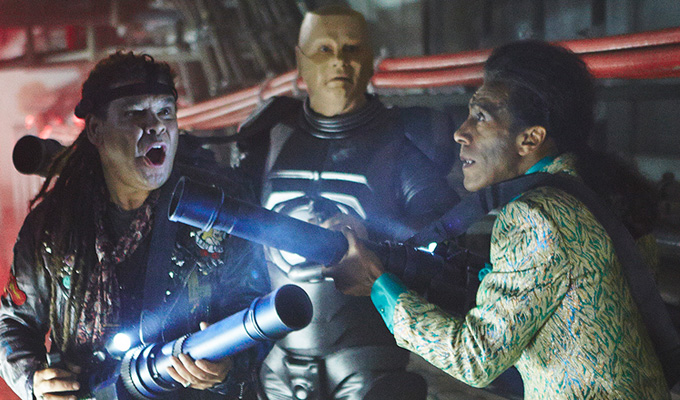 Red Dwarf cast: We can keep making more...
The cast and writer of Red Dwarf say they'll keep making the show as long as there's a demand for it.
But they added that despite the comedy's lasting cult appeal, they feared there would be little chance of it being commissioned if it were pitched today.
Stars Chris Barrie, Craig Charles and Robert Llewellyn joined co-creator Doug Naylor at a UKTV Live event on London's South Bank today to launch the 11th series, which starts on the Dave channel on September 22.
And they have already filmed a 12th series, too, ready for broadcast next year.
Naylor joked that they could 'run it into the ground' as all the actors said they'd love to keep making the show.
Barrie said: 'Why I always come back to Red Dwarf is that the scripts are so great that you want to keep reading, and it's great to renew the chemistry with the boys.'
Llewellyn agreed that the was some 'chemistry-stroke-magic when we all get together' which shows on screen.
The myriad possibilities offered by the sci-fi setting also meant 'there's no limits', Naylor said, with Charles agreeing: 'Because it's  the future, you can do so much – and we are set so far into future it doesn't date.'
However, Naylor said that some storylines resonate with modern times. Referring to one plot in series 11, he said: "A society that suppresses science is quite relevant.' 
'Prescient,' Charles chipped in, before adding that he wouldn't want to make more episodes the show if the quality dipped. 
 'You do worry about the legacy,' he said. 'We don't want to do anything too affect that. We wouldn't want to come back grey, fat and old, like we are, and do a bag of shite. These shows are as good as possible, and as good as in the old days.'
Naylor said that an 'appetite to push the boundaries' was what kept the series fresh and praised the Dave channel for letting him 'push and push and push' in terms of the comedy and the storylines, including allowing enough budget for some on-location filming this series.
He also gave a hint about one storyline in series 11, when asked about reports that it would revolve around Cat's love live. 'We never addressed that he's this player who's never had a girlfriend, he said. 'And it is addressed in the last episode.'
The sci-fi comedy first started on BBC Two in 1998 and was revived by Dave in 2009 after a ten-year absence. There has been a four-year gap since the last series, as Charles was under contract to Coronation Street and then went into the I'm A Celebrity jungle.
Naylor attributed the show's longevity to the fact 'there's not much like it or ever has been. It's unique. And some people like it, so as long as some people like it, we'll probably be all right.'
Charles said: 'Sci-fi is the biggest genre – look at all the Hollywood movies – so it's nice to  have a show that sends all that up.' But Llewellyn was quick to point out: 'It doesn't undermine hit science fiction,'
Naylor recalled that the show, which he created with Rob Grant, was initially a tough sell for the BBC to pick up. 'I've always loved Red Dwarf as a concept, though it took us three years to sell it,' he said. 'There was nothing really like it, maybe Hitchhikers' Guide but that was not really character-based.'
'I'm not sure it would get through the commissioning process these days,' Charles added. 'if you pitched this show set three million years in the future with the last human and only the hologram of his dead bunk mate, a dodgy old mechanoid and a creature that's evolved from the ship's cat for company…'
Barrie agreed, saying: 'It used to be that shows which didn't hit the ratings immediately would be given a second chance' – but he feared the same was not true today.
However, it has proved a hit for Dave, with UKTV chief executive Darren Childs pointing out that within 24 hours of the Red Dwarf XI trailer hitting screens last week, it had been viewed millions of times online.
• Red Dwarf XI starts on Dave on September 22, and will be available on the UKTV Player seven days earlier.
Published: 6 Sep 2016
What do you think?