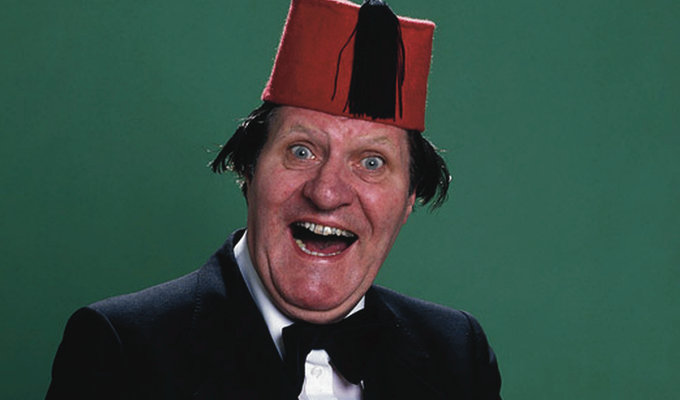 V&A acquires Tommy Cooper archive
The Victoria and Albert Museum has acquired a vast archive of Tommy Cooper memorabilia – but not a single fez.
The late comedian was meticulous in recording his jokes in a 'gag file' and the collection includes 116 boxes of archive material and 24 props and posters .
A spokesman for the museum said: 'The collection also sheds light on Cooper's scrupulously organised working methods, the business side of his vocation and the extent of his writing. 
'Cooper only used a small percentage of all the material he amassed as part of his gag file, a system for storing his jokes, ordered alphabetically with the meticulousness of an archivist.'
The collection also includes Cooper's writings, some jotted down on backs of posters and shirt packaging cardboard, as well as contracts from 1946 to his death in 1984 – including those he could not fulfil following his collapse on live TV.
Other highlights include stage props, such as Cooper's infamous 'Head Twister' illusion; details of early auditions at the BBC and engagements; a folio notebook full of his gags; personal correspondence; posters; theatre programmes and merchandise charting his career spanning almost four decades.
A selection of these objects will go on public display for the very first time in the autumn with the rest available for research, once it has been catalogued.
The museum already has archives from from Ronnie Barker, Tony Hancock, Dame Edna Everage and Morecambe and Wise as well as thee records from London's Windmill Theatre, the scene of early stage appearances for most post-war entertainers.
Simon Sladen, a senior curator at the V&A, said: 'The Tommy Cooper Collection offers a fascinating insight into one the best-loved entertainers of the 20th century and reveals much about his practice, process and legacy.
'Although it doesn't contain one of his iconic fezzes, the rich collection contains thousands of hand-written gags as well as unique examples of his comedy props. Since 2010, the V&A has been collecting material that helps tell the story of British comedy and we are delighted to welcome the Tommy Cooper Collection
And Cooper's daughter, Vicky, added: 'It is wonderful that the V&A has acquired the Tommy Cooper Collection and that the public will get to see some of his material on display later this year. I hope it brings as much enjoyment to people as he did when he was alive.
'My dad would be very proud knowing he was now represented in the National Collection of Theatre and Performance, sitting alongside the likes of Ronnie Barker's archive and costumes worn by Morecambe and Wise and Stan Laurel.'
Published: 26 Aug 2016
What do you think?