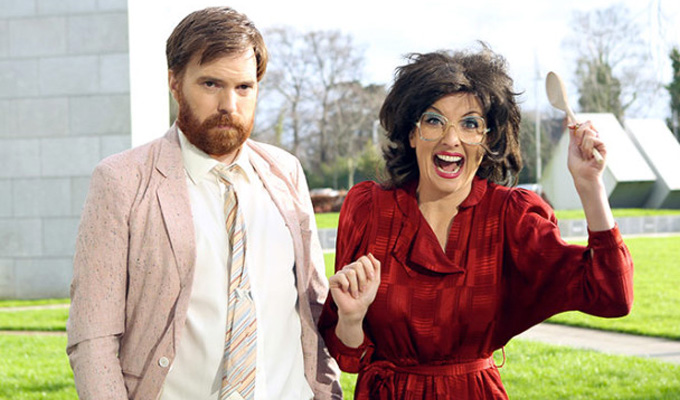 Gold buys Irish sitcom hit Bridget & Eamon
Irish comedy series Bridget & Eamon is to air in Britain after being sold to UKTV's Gold channel.
All six episodes of the sitcom, which debuted on RTÉ2 in February, will air this autumn. It is the first time a comedy funded entirely by the Irish state broadcaster has been screened in Britain.
Bridget & Eamon stars comedian Bernard O'Shea and Jennifer Zamparelli, a former UK Apprentice contestant and now TV presenter, as a married couple in the Irish Midlands in the 1980s. Chain-smoking Bridget has notions of a more glamorous lifestyle, but the hapless Eamon finds it impossible to make money.
It started life as a sketch on the satirical show The Republic of Telly before being commissioned for a full series – and last month a second season was ordered.
Written by its stars, plus Jason Butler, the show also features Norma Sheahan, Eleanor Tiernan and Sharon Mannion as Bridget's neighbours, Colum McDonnell as Eamon's mate Fierce Handy Frank and Edwin Sammon as the local parish priest.
RTÉ's head of comedy, Eddie Doyle, said: 'This is a real breakthrough for Irish comedy in Britain. Building on the success of Mrs Browns Boys, Bridget & Eamon shows how Irish writers, performers and producers can compete in one of the biggest, most creative comedy marketplaces in the world.'
Edel Edwards, head of international programme sales for the broadcaster, added: 'Bridget & Eamon is just very, very funny. It has great jokes, great characters and has delivered great audiences for RTÉ2. We're confident that Gold's viewers will laugh as loudly to Bridget and Eamon's 1980s-inspired antics as RTÉ2's — especially anybody who remembers those days of Dallas, Dynasty and massive shoulder pads.'
The second series will air in Ireland in October.
Here's a sketch from Republic of Telly.
Published: 22 Aug 2016
What do you think?