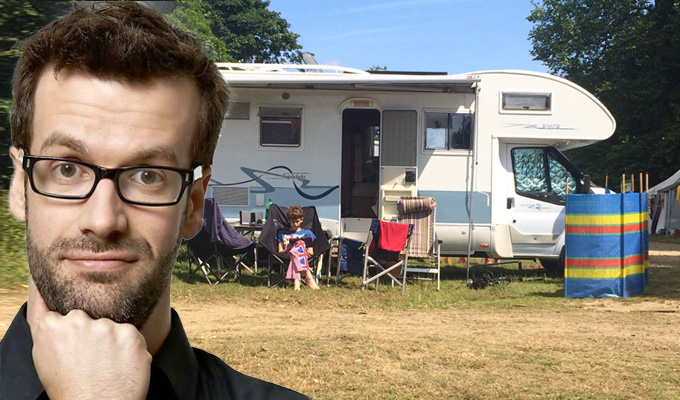 'I had a decade of memories in that van'
Marcus Brigstocke has put out an appeal following the theft of his beloved motor home – the second time a vehicle was stolen from his home in a month.
The Superbrig – the genuine name of the model, not merely a nickname – was taken from outside his house in Balham, South West London, on Saturday morning.
It came within days of another camper van being stolen from Brigstocke's house, a rental vehicle he was using while his own was being repaired.
The comedian said he was being extra-vigilant following the earlier theft, but the Superbrig, registration number HY07 CCV, vanished as he took a shower around 10am on Saturday.
And he told Chortle he was gutted over the loss of the van, which held a decade's worth of memories, from family holidays to festivals.
'I've written more comedy in that van than anywhere else,' he said. 'Because we did more than 50 performances of our Early Edition topical show at festivals.'
He took it to the first Altitude Festival, the Alpine comedy event he founded. 'I stayed in it in -13C temperatures while I paid for all my friends to stay in a five-star hotel,' he said.
At events such as Latitude and Glastonbury, teetotal Brigstocke became known for cooking elaborate meals in the van, so fellow comics would stagger bleary-eyed from their tents on a Sunday morning to witness him preparing smoked haddock or beef wellington.
He also sometimes took the van on his stand-up tour. 'It's more fun,' he said. 'You can drive into the countryside or to the coast after a gig and wake up with a great view. It's also slightly less lonely than staying in hotels. as you wake up with your own stuff.'
And he said that the Superbrig became his home during the breakdown of his marriage five years ago.
He was starring in the Railway Children at Waterloo Station at the time, and parked it outside. 'It became my primary address,' he said. 'One day I did Graham Norton with Keanu Reeves and Emilia Fox, and they had these Mercedes take us home. After the glamour of the show, I had to say to the driver, "You know those bins at the back of Waterloo Station?". He pointed out, "There are no trains at this time of night mate". "I know…"'
Brigstocke joked that the theft made him reassess his liberal viewpoint in favour of a 'string-em-up' mentality.
'The liberal in me tries to think that it's been taken by somebody who needs it more than me,' he said. 'But I know it was just a nasty thieving fuck.'
Published: 4 Aug 2016
Recent News
What do you think?