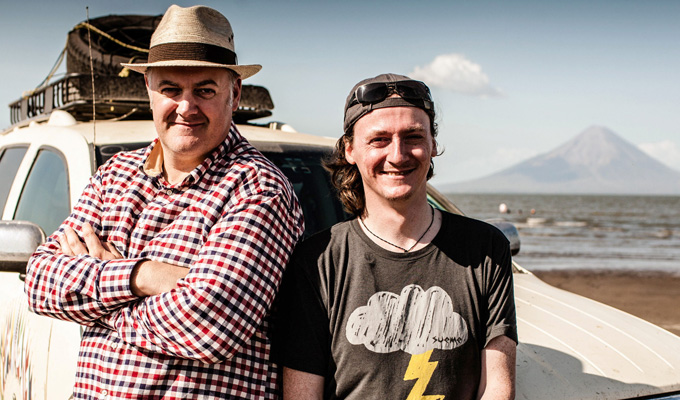 Another road trip for Dara & Ed
Dara O Briain and Ed Byrne are shooting a second travelogue together for BBC Two, Chortle can reveal.
The Irish comics will journey 3,500 miles from Malaysia to the jungles of Myanmar in the new series, provisionally titled Dara and Ed's Asian Adventure.
Production is already under way on the three, 60-minute episodes which are expected to air next year.
It follows the pair's road trip for the channel last year, in which they drove from Detroit to Panama along the Pan-American Highway, recreating a 1940 adventure.
Their new journey begins in Kuala Lumpur, where they will explore the Malaysian sense of humour. Then they will travel through the Malaysian peninsula, meeting indigenous tribes and taking part in a chicken beauty pageant, before crossing into Thailand where they learn how the worst excesses of tourism are affecting Phuket's wildlife.
The trip then takes them north to a Buddhist monastery to experience one of the world's toughest detoxes, before entering Myanmar and ending their journey in Mandalay.
Co-financed by Irish broadcaster RTE, which will also screen the series, Dara and Ed's Asian Adventure is being made by production company Boundless, whose other credits include The Apprentice and its You're Fired! spin-off, which O Brian previously hosted.
BBC Two commissioning editor Clare Sillery said: 'I can't imagine better travelling companions on the Road to Mandalay. Dara and Ed share wit and intelligence in abundance and also a genuine friendship that should make this a really surprising and enjoyable journey.'
Critics delivered a mixed response to the Pan-American series, with the Independent describing O Brian and Byrne, who were best men at each other's weddings, as 'well-practised in their banter'. The Telegraph called it 'classic 21st-century roister doister travel programming with all the subtlety of a stubbed toe … It was a prime example of the blokey, banter-based blather that is basically more about male friendship than any particular place or story.'
O Briain and Byrne aren't the only comedians currently making BBC travelogues. A second series of Romesh Ranganathan's Asian Provocateur is in the works for BBC Three, with the comic travelling across the US.
Here's a clip from the original series:
Dara and Ed's Asian Adventure is produced and directed by Pamela Gordon and executive produced by Fiona Caldwell.
– by Jay Richardson
Published: 8 Jul 2016
What do you think?