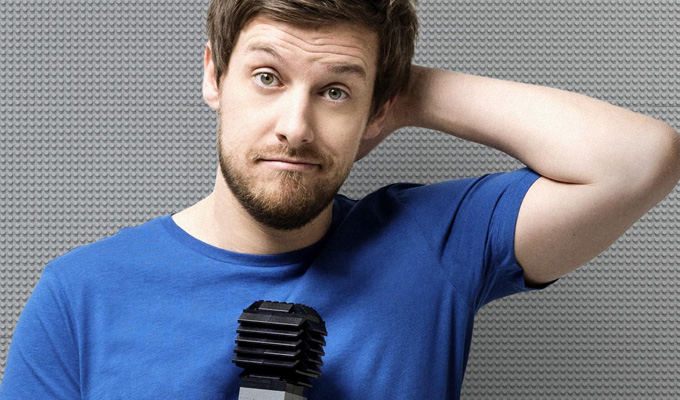 Chris Ramsey shoots Comedy Central pilot
Chris Ramsey is making a pilot for Comedy Central.
Currently untitled, the show will feature Ramsey and guest comedians 'taking a fast-paced look at the stories everybody has been talking about and sharing via social media'.
The 22-minute show will be shot in front of a live audience in London early next month. Tickets are available here.
Ramsey last year piloted a show with a similar premise for Channel 4, which was then called Too Much Information.
The comedian has almost 380,000 Twitter followers and is a self-confessed 'cyber-loafer'. He has previously hit the headlines when his tweeted plea to get pizza delivered to a train he was travelling on went viral, and earlier this year tweeted a bizarre incident when armed police stormed his hotel room  and slapped him in handcuffs – mistaking him for a knifeman.
Comedy Central commissioner Louise Holmes, who greenlit the pilot, said: 'Chris is ingenious enough to have had pizza delivered to a moving train and incautious enough to have been arrested in his underpants. We await his pilot with a giddy mix of anticipation and fear.'
 
Like the Channel 4 pilot, the new show is overseen by Russell Howard's Good News producer Mark Iddon and made by Avalon Television, whose agency arm also represents Ramsey.Avalon's Richard Allen-Turner and Jon Thoday are  executive producers, and the show has been developed with Comedy Central's Matt Tiller 
The pilot is part of move by Comedy Central to increase the volume of non-scripted original British comedy it broadcasts following Drunk History  and Russell Howard's Stand Up Central, which is also made by Avalon.
A new Avalon-produced American travelogue fronted by Howard, which has the working title Travels with My Mum, will air on Comedy Central in the autumn.
 
 
Published: 17 Jun 2016
What do you think?